Painted Palms lit souls at The Griffin [VIDEO]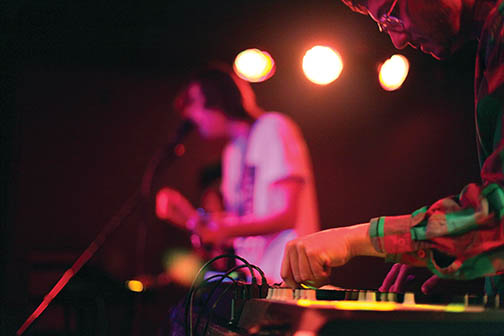 by Courtney Brown
March 10, 2014
Hang on for a minute...we're trying to find some more stories you might like.
Local San Diego venues have been hosting more up-and-coming bands that are perfect for students looking for new music. For instance, the band Painted Palms played at The Griffin on March 5th along with Kid Trails and Holychild. If you've never been to The Griffin, it's definitely an experience. The venue is dark and gritty but intimate and lively, which creates an ideal setting to catch some new artists. The small, social atmosphere allowed for a very personal show. The musicians even hung out at the bar with the audience while other bands played.
Painted Palms is a group relatively new on the scene, with a continuously growing fan base. The bands' innovative sound is described by band member Reese Donohue as "inspired by '60s psychedelia and '90s rave music." After recently releasing its latest EP entitled "Forever," the guys of Painted Palms are on a high that's hard to come down from as they continue to book gigs. Donohue and cousin Christopher Prudhomme are the creative force behind the music. The Louisiana souls migrated to the West Coast and brought with them some funky fresh jams. Watching them play at The Griffin was entrancing. The dreamy, hypnotic elements found on their tracks were intensified on stage by the energy in the room. Prudhomme, the lead vocalist, had a very raw, effortless aura along with the other band members. It was a bummer there were only about 30 people there to witness this kind of organic talent. This is a band with a sound worthy of playing Coachella or Outside Lands Music and Arts Festivals. I wouldn't be surprised if they make the lineup within the next few years. However, all of the musicians that played at The Griffin that night seemed as if they were jazzed to be playing for people that got a kick out of their music. And isn't that what it's all about?
Holychild

Painted Palms

Also read: If Daryl dies, we riot
Photos courtesy of Monica Linzmeier