Florez, a leader off and on court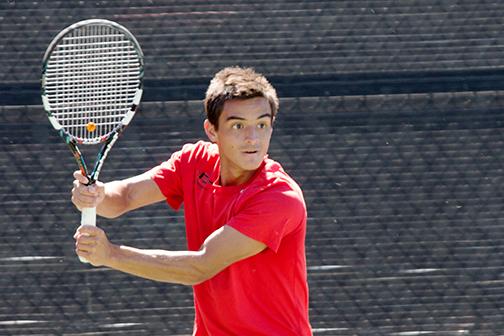 by Anthony Reclusado
March 13, 2014
Hang on for a minute...we're trying to find some more stories you might like.
Sports have the power to change lives, and that could not be any more true for Juan Florez. Tennis was the bridge from his native country of Colombia and his college education in the U.S.
Growing up playing tennis with his father, Florez quickly fell in love with the sport. He soon dominated the tennis circuit in Colombia, ranking nationally in the top five at the ages of 14, 16 and 18. So it was not surprising that he received multiple offers from a variety of universities, but San Diego State had the ultimate edge.
"I liked the coaching staff and knew it was going to be helpful to me to evolve my game," Florez said. "SDSU was highly ranked in Division I play and very competitive."
In his senior year Florez has only one objective in mind and as a leader it is not only success for his own game, but for the team.
"As a senior I try to get the entire team together with (Nicholas) Hunter and try to be a good example for the underclassmen," Florez said. "Also, a personal goal of mine is to give the best I have for the team in the last two months that I have with them."
This season, Florez has an 8-5 overall record, but is only 3-4 in dual play including 1-2 in Mountain West play. He has never finished a season with a losing record or with more than two losses in conference play. He said that his play is not affecting his mentality and is confident that he can turn this season around.
In the classroom, Florez is majoring in business administration with an emphasis in management and aspires to either work on a Masters degree at SDSU, or go back to Colombia with a U.S. education to open his own business. He feels as though the lessons he learned from tennis will help him no matter what he decides to do after this year.
"Whatever I decide to do, I know tennis has helped me grow as a person, to develop good habits in my life, and to think about the people I have around me," Florez said.
Florez believes that if one tries to do the right thing then everything will take care of itself. It is clear that this holds true with him as he always attempts to do what he feels is right for himself and his family and so far everything has fallen into place for Florez.
"I knew tennis would help me to come to the U.S. and get a college education," Florez said. "When I do go back to Colombia it will help further my life and my family's."
Photo by Jonathan Bonpua, staff photographer