Aztecs test new safety feature for helmets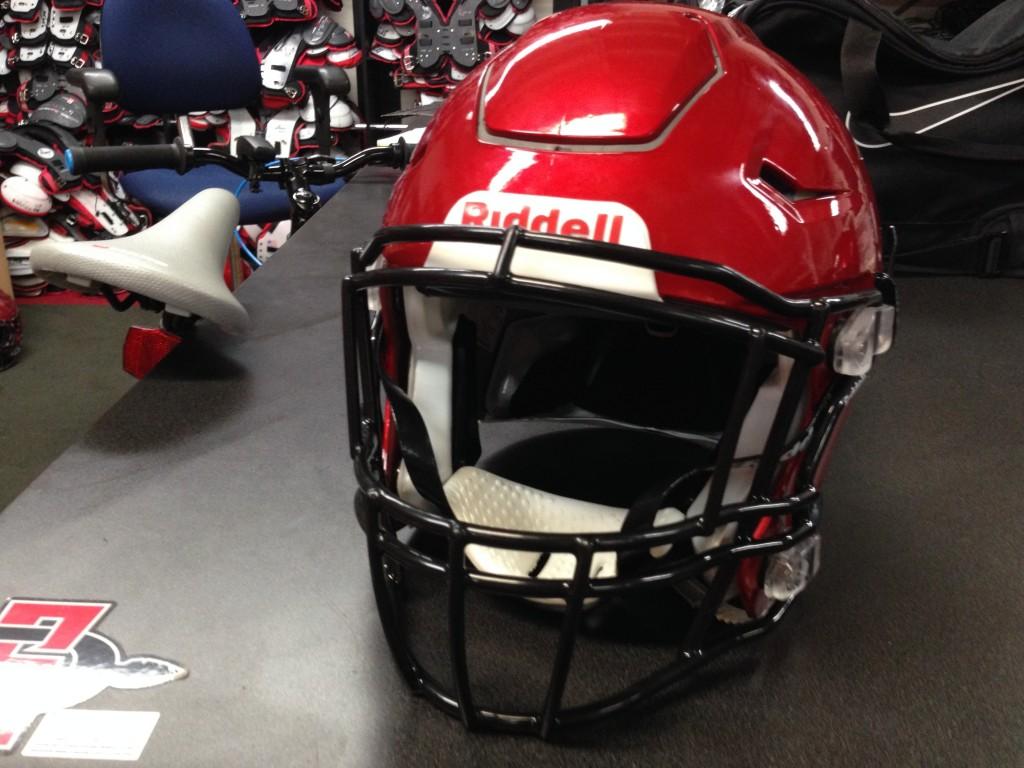 by J.D. Hodges
April 7, 2014
The San Diego State football team fielded a limited number of new Riddell SpeedFlex helmets for spring practice, which add several new safety features to football helmets.
SDSU will be one of 10 schools testing the technology, SDSU Equipment Attendant Sonny Sanfilippo said.
The football team currently uses Riddell helmets, but the SpeedFlex model  is different in three main ways.
"The main difference is the front occipital area," Sanfilippo said. "Players say that it absorbs the hits better."
The front occipital area is the front of the helmet and takes the brunt of most impacts. The helmet's facemask is a highbrow ridge, which Sanfilippo said would help deflect hits from the face.  The chinstrap also uses a locking system instead of buttons, which helping to secure the helmet.
"We've been happy with them in spring ball, so we may add more," Sanfilippo said.
The team has six of the new helmets total, which are assigned to three players. Each player is assigned two helmets – one for practice and one for games. The equipment managers had a simple way of deciding who wore the new helmets, Sanfilippo said.
"We wanted to give them to people who we knew would get their nose in there and hit somebody," Sanfilippo said.
Sanfilippo said he's received positive feedback from the players. After spring practice, which began on Feb.26 and ended with the spring game on March 26, the helmets were sent back to Riddell where they will be evaluated, analyzed and reconditioned.
"We're going to send them back to Riddell and they're going to analyze them and they're also looking for feedback from us," Sanfilippo said. "It's the first version of them so I imagine they'll tweak them a little."
Riddell Key Account Manager Taylor Hanohano said the design and development for the helmet has been in progress for nearly three years.
"It's our goal with each release that the new helmet's performance improves upon the previous generation and we believe this to be the case with the SpeedFlex," Hanohano said.
The helmets will be evaluated by an independent third party to measure the effectiveness, Hanohano said.
Hanohano explained how SDSU came to get the helmets and why they were one of the first programs in the country to get them.
"Riddell has maintained a strong relationship with San Diego State University for many years," he said.
Hanohano said Riddell visited SDSU during a private meeting at the American Football Coaches Association annual convention, where the new helmet technology was displayed. Hanohano said Riddell expects more teams to outfit their players in their gear this year.
Photo by J.D. Hodges, staff writer