WOA rally aims to 'Take Back the Night'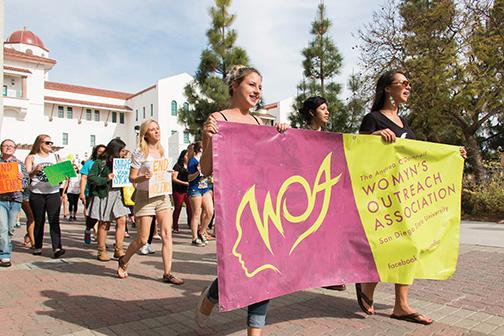 by Jessica Santos
April 14, 2014
Hang on for a minute...we're trying to find some more stories you might like.
The Womyn's Outreach Association hosted its annual event "Take Back the Night" to raise awareness about domestic violence and sexual assault on Thursday.
As an organization, WOA aims to empower and liberate the student population of San Diego State.
[quote]English senior and WOA Vice President Melissa Magargal said the event is a safe space for people to have a healing moment with others sharing common experiences. She condemned the stereotype that women are assaulted because they are "asking for it."[/quote]
"There is nothing you can do to 'ask' to be sexually assaulted," Magargal said. "It doesn't matter if you're drunk, it doesn't matter how short your skirt is, it doesn't matter what your sexual or gender identity is–it is never okay to assault somebody. That's the most important message coming out of today. We don't want to be silent. We are going to take a stand against it."
The event kicked off with a march around campus, where the group chanted "Claim our bodies, claim our rights, take a stance, take back the night," and carried signs reading, "Stop Slut Shaming," "Take Accountability," and "Make SDSU Safer." By the time they circled back around to the courtyard, more people had joined their march.
This event took place in the middle of the first Trans Week of Empowerment hosted by the Queer Student Union. Magargal said she was thankful to be working alongside QSU and other organizations.
Communications sophomore Hakeem "Jojo" Peyton spoke on behalf of QSU. He said the organization wanted to support its "feminine sisters" and their fight against domestic violence.
[quote]"We want people to know that we're here, we are a community talking about queer people and our allies," Peyton said. "WOA is an ally of our community and we wanted to support their cause."[/quote]
Guest speakers, an open mic and numerous organizations tabled around the courtyard to pave the way for the rest of the evening. Groups such as the Center for Community Solutions, These Hands Don't Hurt, SDSU Counseling and Psychological Services and many more were present and offered attendees resources and information. WOA gave out tea lights, condoms and a quick resource book filled with contact information for a wide range of hotlines, programs and offices for anyone in need of help or counseling.
Department of Women's Studies associate professor and faculty adviser for WOA Doreen Mattingly spoke at the event and said violence against women has been a fundamental part of a cultural system that devalues women. She said women have learned to limit themselves because of the fear of violence.
"I encourage you to take this opportunity think about the larger issues," Mattingly said. "Think about it as a larger system where you can have an effect at a number of different points, knowing that ending violence against women is a question of cultural change. It's a fundamentally political issue; it's fundamentally an issue about power."
Photo by Megan Wood, staff photographer