Men's tennis falls to No. 22 Boise State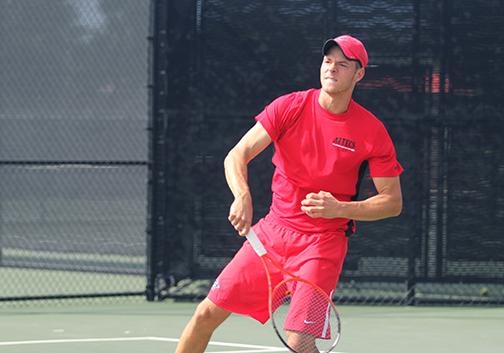 by Anthony Reclusado
April 18, 2014
Hang on for a minute...we're trying to find some more stories you might like.
The San Diego State men's tennis 12-match regular season conference-winning streak came to a screeching halt last Saturday. The team failed to complete the improbable comeback against No. 22 Boise State University, 4-3, at Appleton Tennis Center in Idaho.
SDSU (9-11, 3-1 MW) rallied from a 0-3 deficit to tie the score at 3-all, only to lose in the final match in three sets in the No. 4 slot when freshman Hendrik Jebens fell to junior Garrett Patton, 4-6, 6-4, 7-6 (9-7).
The Aztecs fell into a quick hole losing the first two matches in doubles play to Boise State (23-4, 4-0 MW), which earned the doubles point. Sophomore Toby Mitchell and Senior Nathan Sereke downed the No. 3 duo of junior Thorsten Bertsch and senior Juan Florez, 8-4. Freshman Brendan McClain and Patton then defeated the No. 2 team of Jebens and sophomore Freddy Gelbrich, 8-1.
The final match of doubles play between the No. 1 duo of SDSU senior Hunter Nicholas and junior Andranik Khachatryan against senior Andy Bettles and sophomore Thomas Tenreiro went unfinished. However, the Broncos were ahead 6-5 when the match ended.
Aztec Freshman Milen Ianakiev was the first to fall in singles play to McClain in the No. 5 slot without much of a fight—6-2, 6-0. Khachatryan also fell in the No. 6 spot to Mitchell in straight sets, 6-2, 6-4.
SDSU then began its furious comeback with Nicholas' victory over Sereke on the No. 2 court, 6-3, 6-4. Bertsch then defeated No. 85 Bettles in straight sets, 6-1, 6-4. It was the fourth victory for Bertsch this season against a nationally ranked opponent in singles play.
Gelbrich won his third straight single match in dual-match play with his win against Tenreiro in the No. 3 slot, 7-6 (10-8), 6-3, which tied the match at 3-3. Jebens was then narrowly outplayed by Patton to seal the victory for the Broncos.
The next match for the Aztecs is on Wednesday, April 16, when they host Hawaii at Aztec Tennis Center at 2 p.m. PST.
Photo by Kelly Smiley, Staff Photographer