Lobos knock off men's tennis in MW semifinals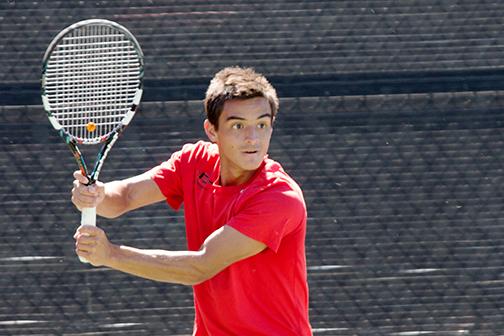 by Anthony Reclusado
April 30, 2014
Hang on for a minute...we're trying to find some more stories you might like.
The No. 3-seed San Diego State men's tennis team was edged out in the semifinals of the Mountain West Championship by the No. 2-seed University of New Mexico, 4-3, which is starting to become a recurring nightmare for the Aztecs, as this is the third straight year the Wolfpack have bounced them from the tournament.
Before SDSU earned the right to play UNM they first had to get through the No. 6-seed University of Nevada, Las Vegas Rebels in the quarterfinals. The match started off with the Aztecs dropping the doubles point, however, it turned abruptly as the Aztecs swept the Rebels in singles play. Freshman Milen Ianakiev was the first to collect a singles point in the No. 6 slot downing the opposition in straight sets. Senior Hunter Nicholas, sophomore Freddy Gelbrich and junior Thorsten Bertsch finished off UNLV with victories in straight sets as well.
As in their match against UNLV, SDSU dug their selves into a quick hole as they lost the doubles point. The duos of Ianakiev and senior Juan Florez in the No. 3 slot and Bertsch and Nicholas in the No. 1 spot both fell to identical scores of 8-5.
Fortunately for the Aztecs they quickly shook off their UNM demons and turned this into an exciting match. In the No. 4 slot freshman Hendrik Jebens began singles play by thoroughly outplaying Lobos sophomore Andy Van Der Vyver, 6-1, 6-2, however, UNM's junior James Hignett responded with his own drubbing of junior Andranik Khachatryan, 6-2, 6-0, on the No. 5 court.
The match then turned into SDSU's favor as Ianakiev defeated senior Mads Hegelund, 6-4, 6-0, in the No. 6 spot, and Nicholas got the better of Lobos freshman Hayden Sabatka, 6-4, 6-3, in the No. 2 slot. That 3-2 lead was quickly erased as Gelbrich was overwhelmed by UNM freshman Rodolfo Jauregui, 6-3, 6-1, in the No. 3 spot.
This left the match and a spot in the MW Championship final in the hands of Bertsch on the No. 1 court. After winning the first set against junior Samir Iftikhar, 6-2, Bertsch dropped the next in a lengthy tiebreak, 7-6 (11-9). Unfortunately for the Aztecs Iftikhar proved too much for Bertsch and won the final set 6-3, ending SDSU's MW title hopes.
Photo by Jonathan Bonpua, Staff Photographer