Aztecs set for MWC showdown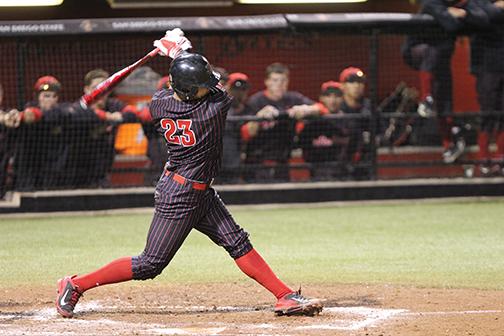 by Ryan Posner
May 1, 2014
Hang on for a minute...we're trying to find some more stories you might like.
Pitching
There may not be a pitcher in the country that means more to his team than junior closer Michael Cederoth means to San Diego State. Just this past Friday he proved his worth when he pitched multiple innings as he's has done all year, and helped secure an Aztec victory in extra innings against San Jose State University.
Cederoth has 16 saves on the year, which is second in the country, and continues to provide stability in the back end of the bullpen. New Mexico University's Saturday starter junior Colton Thomson has been inconsistent throughout the year. Thomson is 5-5 and has a 4.24 ERA. Matched up against SDSU ace sophomore starting pitcher Bubba Derby, the Aztecs definitely have the advantage, which will provide momentum in the series.
It's clear that New Mexico doesn't win its games through pitching with a team ERA of 4.29. If Derby and sophomore starting pitcher Mark Seyler (7-3, 3.34 ERA) are able to provide quality starts and hand it over to Cederoth to close, SDSU will win the series.
Edge: Aztecs
Offense
The Mountain West Conference has a new home run leader and he goes by the name of Brad Haynal, the junior catcher for the Aztecs. Haynal launched two homers over the weekend, giving him nine on the year and putting him on top of the MWC. While Haynal's home runs will be a factor, it's New Mexico's offense that will play a large role in this series and the reason the Lobos have been so successful this year. What they don't have in pitching they make up for with their bats, and the key cog to their lineup is senior outfielder Chase Harris. He is batting .369 with six home runs, and has 53 RBIs, leading the MWC. Haynal is 2nd in the MWC in RBIs with 41, showing the kind of season Harris is having. Considering Derby has not been sharp in his last couple of starts, and junior starting pitcher Mike Robards has been lackluster this year, the Aztecs could find themselves in the hole early in games. However, if Haynal continues his production while sophomore third baseman Ty France and senior second baseman Tim Zier continue their stellar seasons, SDSU should match the Lobos in runs.
Edge: Lobos
Prediction
SDSU (31-14, 12-9 MWC) is on a hot streak winning six out of its last nine games, while New Mexico (31-14, 14-7 MWC) was just swept by UNLV. The Lobos don't possess a lot of quality pitching with a team ERA over four, but their offense is explosive, batting .312 as a team. SDSU is fairly balanced, but its real talent comes in the back end of the bullpen. If the starters are able to go seven innings and get Cederoth in the game with a lead the Aztecs will be in good position. Unfortunately, New Mexico's offense is too potent, and seeing how SDSU is on the road, where they are 9-10 on the season, you can expect the Lobos to tack on plenty of runs and keep Cederoth from being a factor.
Prediction: New Mexico takes two out of three
Photo by Kevin Serrano, staff photographer