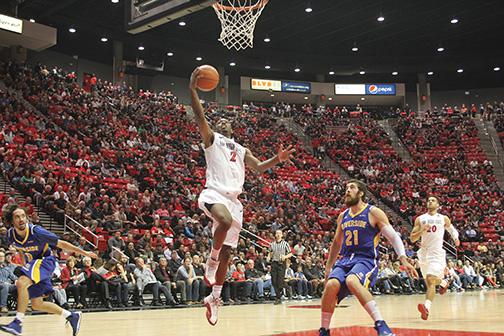 To say it's been a good summer so far for San Diego State basketball fans could perhaps be taken as an understatement. It started as fans saw former SDSU basketball standout Kawhi Leonard named the NBA Finals MVP, and continued onto June 26 at the 2014 NBA draft.
Xavier Thames, the former Mountain West Conference Player of the Year, otherwise known as SDSU's "X-Factor" around campus, was selected in the second round, and 59th overall, by the Toronto Raptors before being traded minutes after to the Brooklyn Nets.
On draft night, the Nets did not have a draft pick, but obtained the draft rights to three players in the second round—they used one of them on Thames. As the draft took place at the Barclays Center, which is the home to the Brooklyn Nets, it was only right somehow that the Nets played their way into this years NBA draft to obtain a few draft picks.
But for many reasons, Aztec basketball fans have plenty of reason to be excited for the former "X-Factor" and what his NBA future holds. If the draft brings back any memories of former Aztecs, most will remember what happened in the 2011 NBA draft to the current NBA champion and Finals MVP Leonard, who was also traded on his draft night. Three years later, Leonard finds himself in a better situation and team with the San Antonio Spurs who obtained him minutes after the Indiana Pacers selected him 15th overall. So for Thames to be another Aztec traded on his draft night, SDSU fans have every reason to be optimistic about his professional future.
As an NBA prospect, there are a few things to understand first about Thames draft selection. As a second-round pick, nothing is guaranteed—he will first need to play for Brooklyn's pro-summer league team that begins on July 5 in Orlando. From there, Thames will look to perform well enough to earn himself a contract to the Nets training camp in September with a goal of eventually making the Nets regular season NBA roster.
So how might Thames fit into Brooklyn? For one, they are an aging team with a roster composed mainly of NBA veterans. They have a veteran point guard in Deron Williams who showed signs last season of possibly hitting the inevitable decline in his career as his best basketball days seem to be behind him. Backup point guard Marquis Teague has been up and down in the NBA D-League all year, and Shaun Livingston was mainly used as a shooting guard in Brooklyn. This could be the perfect team for Thames to develop his game, especially when considering he'd be surrounded by veterans, and former NBA champions, Kevin Garnett and Paul Pierce. If Thames indeed makes the regular season roster, look for him to get playing time for a team in desperate need of a backup point guard.