SDSU ranks No. 19 in list of top MBA programs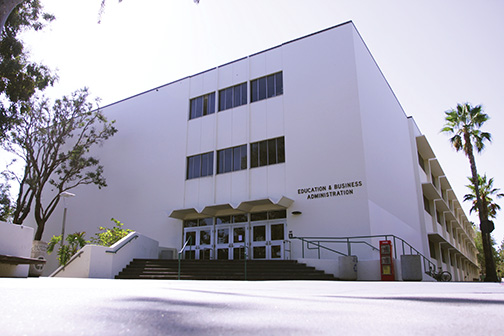 Hang on for a minute...we're trying to find some more stories you might like.
As for graduate schools of business to apply for in 2015, San Diego State's master's of business administration program was ranked No. 19 on College Atlas's The A-List: Best Business Schools.
College Atlas selected 100 A-list graduate schools of business, based on overall quality, accessibility and affordability. Each year, College Atlas creates a list of its selections for the best MBA programs for prospective students to apply to.
"The top business schools on the list offer ambitious students a high-quality graduate education," 1on1 Digital Public Relations Manager Alyssa Vincent said. "Our desire is to give potential MBA students a list featuring high-quality MBA programs without the Ivy League price tag or barrier to entry."
University of Cincinnati made No. 1 on the 2015 list followed by Brigham Young University and Texas Tech University.
While traditionally recognized for excellence in their MBA programs, no Ivy League schools made the top 50 of the list because of their reduced accessibility and high cost, Vincent said.
"San Diego State University's College of Business Administration made the list because it offers a high-quality graduate education at a very affordable rate, with a reasonable acceptance and job placement rate," Vincent said. "Overall, (SDSU's) College of Business Administration is great for getting a high return on investment for a business degree."
According to College Atlas, of SDSU's 1,846 master's degrees earned last year, 471 were in business administration, management and marketing. This was the largest portion of master's degrees awarded to any one program at SDSU.
"The size of our program, number of electives and specializations distinguish our program from others," Interim Associate Dean for the College of Business Administration David Ely said.
According to College Atlas, in addition to having a program that costs less than half of the price of some Ivy League schools, financial aid is available.
"Our graduate business fee is $254 per unit but 25 percent of the fee goes back to needs-based grants and financial aid," Ely said.
Around campus, the college of business hosts programs beyond the classroom setting. Business fraternities, internships and networking opportunities are made available to students.
"I don't think there is a single day where the college is not advertising for student resources," Delta Sigma Pi Senior Vice President Trevor Lundeen said.
Beyond traditional classroom requirements, some extracurricular involvement is a graduation requirement. Graduate students work alongside San Diego businesses on consulting projects and entrepreneurship to attain relevant experience in the field, Ely said.
"The college of business recognizes that students can no longer be competitive in the job market by simply going to class," Lundeen said. "By offering supplemental activities, SDSU Business (Administration) puts itself ahead of the curve."