Aztec Student Union nominated for architecture award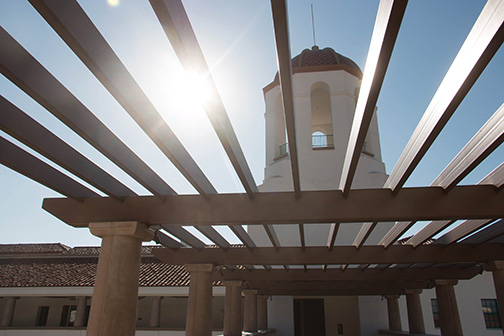 The Conrad Prebys Aztec Student Union was recently nominated for a People's Choice Orchid Award, which recognizes excellence in design and architecture. The building was nominated in part because of the unique California mission style design, as well as the energy-efficient system that powers the union.
"We're incredibly excited," said Robert Schulz, assistant vice president of real estate, planning and development. "It's a great honor to be recognized, and we hope that the students are as proud of it as we are."
Sophomore nursing student Jessica Adams appreciates the student union because of what it has to offer.
"The whole facility is beautiful," Adams said. "It's nice that it offers something for everyone, and is kind of a central meeting place on campus. You can go there just to hang out, grab some food, hold club meetings there, or study. It's very versatile."
The student union was also recognized for the sustainability and energy efficiency measures that are part of the building. The solar panels, insulated roof, lighting control systems, underground rainwater storage tank, and operable windows and shades are just a few of the energy-friendly features built into the student union.
Since it was opened in January, the student union has received several awards, including recognition for Best Overall Sustainable Design at the Energy Efficiency and Sustainability Best Practice Awards. The building is designed to be a LEED platinum certified building. With certification it will be the only student union within the California State University system to achieve the platinum status, according to an article by SDSU Newscenter earlier this year.
The student union cost $107 million to complete, with almost 80 percent of the materials used to build it recycled or reused.
Orchids and Onions is an organization that promotes education and recognition of outstanding architecture, design and urban planning in the San Diego area. Structures are nominated by community members, though Schulz says we have no way of knowing who nominated the student union. The submissions are reviewed by the experts on the Orchids and Onions Panel, who determine the final nominations.
Once these nominations are decided upon and published, residents of San Diego can vote for their favorite building online at the San Diego Architectural Foundation's Orchids and Onions website. Voting closes Sept. 18, 2014.