Aztecs to serve up season at Fall Classic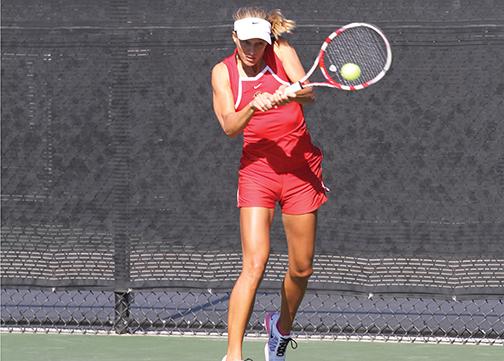 by Zachary Loper, Staff Writer
September 26, 2014
Hang on for a minute...we're trying to find some more stories you might like.
The San Diego State women's tennis team begins its season this weekend with its very own Fall Classic Tournament, which spans from Friday through Sunday.
The team looks to rebound after a down year last season that saw the Aztecs finish with a 12-13 overall record and a semifinals loss in the Mountain West Championships to the University of New Mexico Lobos.
The tournament should get the team ready for the ITA Southwest Regionals next month, which will be co-hosted by SDSU and the University of San Diego. The follow up to the tournament will be the Fall Classic II on Nov. 7-9. The official season will kick off on Jan. 24 with a double header against the University of California, Riverside and California State University, Fullerton.
The Aztecs added three freshmen players to the roster, Felecia Ahlborg of Sweden, Paola Diaz de Regules of Mexico and Jana Buth of Germany who joins her sister, senior Kristin Buth. Hailey Johnson, the other returning senior for the Aztecs will be accompanied by three returning juniors and two returning sophomores.
The biggest hit to the team from last year will be missing out on the presence of Laura Antonaña Iriarte who finished her great Aztec career this past year. The most likely candidate to fill Iriarte's role will be Kristin Buth who was the second-best starter for most of last year. Aside from losing its leading player, the returning roster will be very strong and should expect to see a much better outcome than last year.
Once the regular season starts in January, the Aztecs will take off in a hurry, as the team will play in 24 matches before the beginning of the Mountain West Championships in the last week of April.
The season is light on travel, which should help keep the legs fresh for the team. Only one one trip has a lot of miles on it, when the Aztecs travel to Honolulu, Hawaii. Otherwise, the schedule will keep the team primarily in California for the season until the Mountain West Championships in Albuquerque, New Mexico where the Aztecs will have their sights set on a title that they haven't won since the 2002-03 season.
The schedule will not be lacking in difficulty as it includes three top-25 teams from last year's final Intercollegiate Tennis Association rankings. These teams include the University of Southern California, Pepperdine University and the University of California, Berkeley.
Playing these top-ranked teams, coupled with the top programs in the Mountain West Conference, should make for an exciting, but tough season for the Aztecs.