SDSU sets new fundraising goal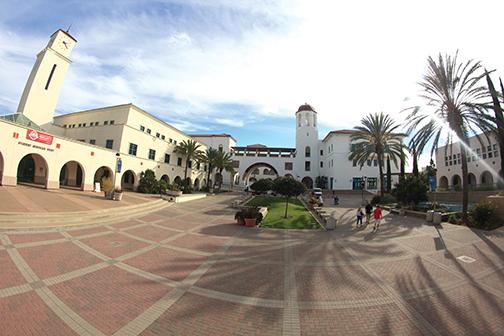 by Quinn Owen, Senior Staff Writer
September 25, 2014
Hang on for a minute...we're trying to find some more stories you might like.
San Diego State officials announced the university's first comprehensive fundraising campaign has exceeded half a billion dollars.
The $500 million goal was set in 2007 and total fundraising over the past seven years has reached approximately $515 million. This figure includes $106 million in scholarship funding and $320 million to support faculty and academic programs, according to an SDSU press release.
About 60 percent of the funds raised in this campaign came from new donors, and 94 of those donors gave $1 million or more. The largest of these donations was $20 million from real-estate developer Conrad Prebys. Prebys made the donation in spring 2014.
In total, more than 48,000 donors contributed to the fundraising goal.
"
The last phase of the current campaign presents an opportunity to create a powerful legacy of academic excellence, research advancement and deep social commitment"
— SDSU President Elliot Hirshman
"The Campaign for SDSU has been extraordinarily successful and we are deeply grateful to our generous donors, as well as all of the members of the university community who contributed to the campaign's achievements," SDSU President Elliot Hirshman said in a statement.
The funds raised over the past seven years will contribute to student learning and faculty research, "which addresses critical global challenges," according to an SDSU statement.
SDSU Media Relations Manager Beth Chee said funds will support a wide variety of new and current campus initiatives.
"Programs like Guardian Scholars and the Honors Program, to scholarships for students in all disciplines, research endeavors, endowed chairs in departments across campus, athletics scholarships … you name it," she said.
This year, SDSU was ranked No. 149 in the US News and World Report's national evaluation of topic universities, up 34 spots from 2011. The university has climbed three spots among top public universities and ranked No. 78 this year.
Alumni and third-party donor contributions are factors when generating these rankings, according to the U.S. News and World Report.
Mary Ruth Carleton, vice president of University Relations and Development and president and CEO of the Campanile Foundation, said the relationship the university forms with donors is vital for student success, research development and new construction.
The fundraising success has allowed SDSU to expand its investment funds. The Campanile Foundation has managed SDSU's endowment since 2001 and aims to generate revenue for SDSU. About $148 million was added to the endowment.
According to the Campanile Foundation website, endowment donations allow for long-term investment funding, providing distribution of fund annually.
With the $500 million goal surpassed, SDSU now plans to reach for a $750 million milestone. These projected funds will support four academic, research and construction initiatives: financially supporting the Honor College, building a research fund, creating additional scholarships and professorships, and constructing a new engineering and interdisciplinary science buildings.
"The last phase of the current campaign — during which SDSU will raise another $250 million — presents an opportunity to create a powerful legacy of academic excellence, research advancement and deep social commitment," Hirshman said.