SDSU recognized for diversity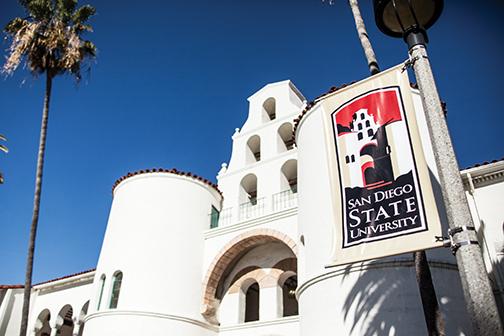 San Diego State recently received an award recognizing the university's commitment to diversity and inclusion on campus. This is the second year in a row SDSU received The INSIGHT Into Diversity Higher Education Excellence in Diversity Award.
Along with the 82 other universities and colleges receiving this honor, SDSU will be featured in the November 2014 issue of INSIGHT into Diversity Magazine. The award is given to schools based on the level of commitment shown in regards to expanding diversity and inclusion on campus through a variety of methods. It also takes into account the school's level of achievement in regards to diversity.
"What that says to me is that our momentum in becoming a campus that emphasizes campus diversity and inclusion is growing," SDSU Chief Diversity Officer Aaron Bruce said. "It says that our strategic plan is working, and the whole campus is committed to our goals."
"
It shows that this is a real focus, and a real team effort with everyone working together"
— Aaron Bruce
Not only does the HEED Award focus on active and high-achieving campus fixtures, it also takes into account student recruitment, retention, and hiring practices for faculty and staff.
Bruce said that there are more plans in progress for developing diversity and inclusion.
"We're increasing historically underrepresented groups in study abroad, and working on professional development so that our faculty and staff reflect the diverse nature of our students," he said.
The goal is to make SDSU a welcome and inviting place for everyone who spends time here. Some of the notable programs at SDSU that help achieve this are The Pride Center, which offers resources for LGBTQ students; The Joan and Art Barron Veterans Center; and the EOP program, which assists economically disadvantaged students.
SDSU also offers students the opportunity to get a degree in LGBT studies, Chicana and Chicano Studies, Asian Studies, Women's Studies, and Africana studies, among other programs.
According to SDSU Analytic Studies and Institutional Research, the three ethnicities with the highest numbers of students on campus in 2013 were White, Mexican American and Filipino: making up 36.7 percent, 23.6 percent and 6.6 percent of the population, respectively.
To support the mission of diversity at SDSU, students can take the Diversity Pledge, which states, "I pledge to embrace the diversity of all individuals … to strive towards social justice … to refrain from using derogatory terms…" and other statements. The entirety of the pledge, as well as the form to take the diversity pledge at SDSU can be found here.
"It's a great recognition," Bruce said of the HEED Award. "It shows that this is a real focus, and a real team effort with everyone working together."