Booth boots sole score as SDSU wins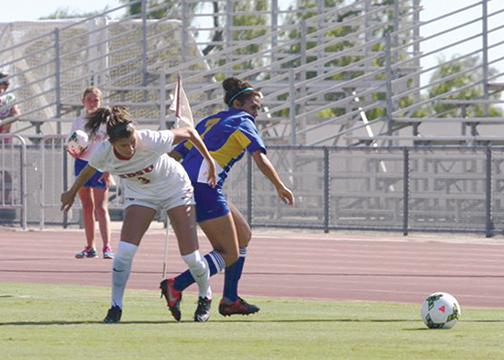 by Anthony Reclusado, Staff Writer
September 29, 2014
Hang on for a minute...we're trying to find some more stories you might like.
In a game where goals were at a premium, the San Diego State women's soccer team was able to edge out its rivals from Northern California, as they defeated California State University, San Jose 1-0 last Friday. The sole goal for the Aztecs came in the opening half as senior forward Kelsey Booth netted her fourth goal of the season to lift her team to 1-0 in Mountain West Conference play.
SDSU (6-2-1, 1-0 MW) headed up north as SJSU (3-4-2, 0-1MW) was on a four-game unbeaten streak and did not concede a goal for more than 185 minutes. To come out with a victory, especially on the road, was no easy task.
The Aztecs opened the game as they have done so many in the past, at a frantic offensive pace and with their patented suffocating defense. SDSU continuously put pressure on the Spartans defense from both sides of the pitch probing for a soft spot, which finally came in the 26th minute of the match.
After SJSU failed to clear the ball from their side of the field, the Aztecs were able to take the ball up the right side of the field where senior forward Haley Locker found her aforementioned counterpart in the middle of the goalie's box, who was able to get her shot off while sliding away from two defenders.
Defensively in the first half, SDSU dominated the opposition as they rarely allowed SJSU to have a concentrated effort on the attack. The Aztecs only gave up one shot to the Spartans the entire half and not conceding a single corner kick.
The second half saw both teams playing dead even as neither team were able to break each others defensive codes and finished the half in a draw. SDSU ended the second half with the edge in shots (6-5) and blanked SJSU again in corner kicks (3-0).
Booth's goal was the second straight game where she found the back of the net and marked a team-best fourth goal of the season. Senior goalkeeper Melanie Vaughn improved her record to 5-2-1 on the season, completing her third shutout.
With Booth's goal, it extends the Aztecs' undefeated streak (6-0-1) when either seniors or freshmen score a goal. It also improved SDSU's record to 31-4-3 against conference opponents since the 2009-10 season.