Aztecs win in Conference opener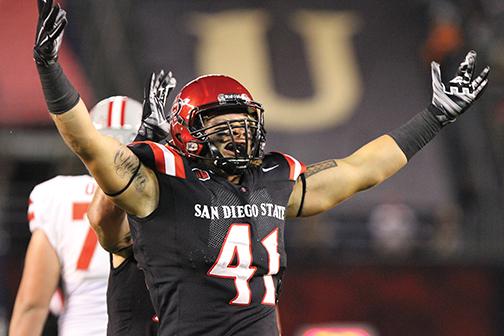 by Ryan Posner, Staff Writer
September 29, 2014
The San Diego State Aztecs defeated the University of Nevada, Las Vegas Rebels 34-17 in front of 28,005 fans at Qualcomm Stadium.
The win snaps a two-game losing streak for the Aztecs in their Mountain West Conference opener.
"I'm happy and excited for our team, I thought they went out and played hard and executed well enough to win a game," head coach Rocky Long said.
Sophomore running back Donnel Pumphrey had his most productive game as an Aztec, with a career high 22 carries, while tying his career high with 167 rushing yards and four touchdowns.
All four of Pumphrey's touchdowns came in the first half.
"What you saw is what he is," Long said. "What's most amazing is how hard he runs between the tackles."
Pumphrey even attempted a pass in the first half but it fell incomplete in the end zone.
"I didn't even pay attention that I was wide open (to run) for a touchdown," Pumphrey said with a chuckle.
Senior quarterback Quinn Kaehler bounced back nicely after a rough outing against Oregon State University. He threw for 209 yards and completed 16-27 pass attempts, and no interceptions.
Kaehler took back-to-back big hits in the fourth quarter that caused him to favor his right shoulder, but remained in the game. Long noted that Kaehler was receiving treatment from doctors on that shoulder post-game, but did not have any further information.
In the absence of senior wide receiver Ezell Ruffin and sophomore wide receiver Eric Judge who sat out with a knee injury, junior wide receiver Larry Clark netted a start. Clark had the best game of his Aztec career, grabbing four catches for 71 yards, both of which were career highs.
"(The receivers) had a great week at practice, the defense gave us a great look (at UNLV)," Clark said.
On the defensive side of the ball, the Aztecs were swarming. They collected a season high six sacks, with two interceptions.
"Coach Long definitely had a good scheme going into this game, just bringing a lot of pressure," sophomore defensive lineman Alex Barrett said.
The great defensive effort comes a week after Oregon State senior quarterback Sean Mannion had his way with the Aztecs defense. As Mannion is a traditional pocket passer, UNLV junior quarterback Blake Decker is a scrambler. The adjustment between quarterbacks did not seem to bother SDSU all that much.
"We knew he was a scrambler coming into the game, the key for us was to stay in our rush lanes and keep him contained," Barrett said.
SDSU did a good job containing Decker on the ground, holding him just to 68 yards. However, he exploited the Aztecs secondary for 346 yards and a rushing touchdown. The secondary did come up with two interceptions though, both deep into Aztec territory.
One of the interceptions came from redshirt freshman Billy Vaughn Junior, who picked off Decker in the end zone in the first half.
"If you want a big play, I thought that was the biggest play of the game," Long said.
Lost in the madness of Pumphrey's incredible game was junior place kicker Donny Hageman, who hit two field goals in the game, putting him at 5-6 on the season.
Senior linebacker Derek Largent was a late scratch to the game due to an appendectomy. Senior linebacker Josh Gavert got the start in his place. Long said he  did not know the timetable for Largent's return. Senior defensive lineman Sam Meredith had injury problems himself ­— aggravating his AC joint in his shoulder during the game ­— but was healthy enough to finish the game.
SDSU (2-2, 1-0 Mountain West Conference) will hit the road next week to play the California State University, Fresno Bulldogs (2-3, 1-0 Mountain West Conference) at 7:00pm on Oct. 3.