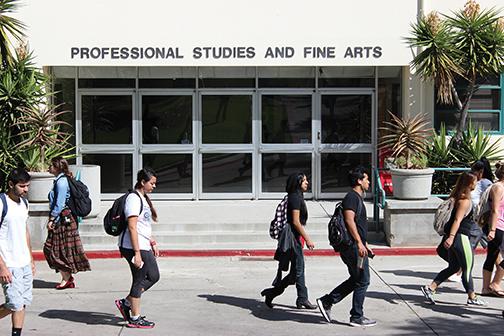 A new class at San Diego State will combine the efforts of the journalism and geology departments as part of a $35,000 grant.
SDSU was one of the 12 winners of the inaugural Challenge Fund for Innovation in Journalism Education, managed by the Online News Association. The winning project "What's in the Air?" is a collaboration between the journalism and geology departments. The grant will be used to create JMS 430, a class that will examine the air quality in San Diego using electronic sensors. Journalism associate professor Amy Schmitz Weiss and geology lecturer Kevin Robinson will teach the class.
Both professors echoed similar statements that the course will benefit students of both departments and will allow for a better relationship among journalism and geology students.
"I think there's always been a little bit of a disconnect between the journalists and the scientists and (the class) is just trying to build stronger ties with the communicators and the scientists, and give students some new direction too," Robinson said.
Schmitz Weiss said that the class will allow students to share their expertise and get foundations in journalism and science skills.
The students will work together to create a news package that looks at San Diego's air quality. The class will require students to go out into the community and look at how the sensors are collecting and recording information.
"This is a new developing effort in journalism now, using sensors to collect information in communities, particularly related to the environment," Schmitz Weiss said. "We're looking at (Environmental Protection Agency) data that has shown inconsistencies in terms of different aspects of air quality in San Diego. Our plan is to see how those inconsistencies are coming about in dif-ferent neighborhoods in San Diego."
Robinson said the sensors will have various functions.
"Some of them are powered, that need to vaporize a gas or whatever to figure something out, and some of them are just collecting particulate data, and that turns out to be the most important health related pollution that we're measuring with the sensors, the micro-pollutants," he said. "We're hoping to try to find out a little bit more about some of the components that are in the air that we don't know about."
The class will emphasize the importance of communication in both journalism and geology.
"To be a really good scientist, I think, in the 21st century, if the story doesn't get to anybody that matters, then what good was it? To make it meaningful in the real world is kind of important," Robinson said. "Being able to communicate to everybody as journalists do, I think would probably be beneficial to scientists."
The class will also include a collaboration with the nonprofit news organization inewsource, which has worked with SDSU's journalism school since 2009, Schmitz Weiss said. The course will ultimately allow students to publish their news stories with inewsource.
The class is scheduled to be offered in the spring as an upper division course that will fulfill major requirements for both journalism and geology majors. Spots will be limited to 20 students, and some plans are not yet solidified.
"We are just now in the planning stages of it, and we're looking to have volunteers across San Diego working with us to send out the beta testers that we're going to place throughout San Diego," Schmitz Weiss said. "We're also looking for any people interested in building the sensors, and students who want to take the class."
The program also hopes to involve science educators around San Diego to involve students K-12 in the project.
"We really want to get people excited and interested and paying attention to the air quality around them," Schmitz Weiss said.