Womyn's association educates students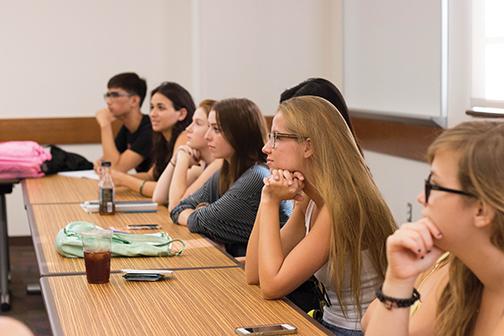 by Kellie Ferguson, Staff Writer
October 16, 2014
Hang on for a minute...we're trying to find some more stories you might like.
The Andrea O'Donnell Womyn's Outreach Association is an organization at San Diego State that works to promote women's rights and empower female students. Currently, it is the only organization on campus that has this specific goal of empowering women.
WOA was started in honor of SDSU student Andrea O'Donnell. O'Donnell was a women's studies major and director of the on-campus Women's Resource Center. Tragically, she was murdered by her ex-boyfriend in 1994. In honor of O'Donnell's spirit and dedication to women's rights, the organization began as a way to promote equality and provide resources for the improvement and empowerment of the lives of women. Through WOA, students can work to raise awareness about gender equality, as well as gain access to resources like Planned Parenthood, SDSU Counseling and Psychological Services, Student Health Services and San Diego's Women's Resource Center, among others. Women's studies and Spanish fourth-year Jessica Valencia is currently president of the club. For her, the club has been an inspiration in the fight for women's rights and gender equality.
"One of the things I like about WOA is that, even in the face of obstacles, the enthusiasm of the members inspire to me to keep advocating for women's rights and issues, especially here on campus," Valencia said.
WOA holds a number of events each semester, and helps to spread the word about other events being put on through the Women's Studies Department.  Take Back the Night  is just one of the events supported by WOA on campus. It is a national rally to raise awareness about sexual assault and domestic violence, as well as provide resources and support for victims. A new event held by WOA on Oct. 16 of this year is called The "F" Word. It caters mainly towards freshmen, and is WOA's way of introducing incoming students to the basic ideas of feminism. WOA is also helping to promote the upcoming lecture Gender Justice in the 2014 Election. Held on Oct. 17 in the Aztec Center by the Women's Studies and Political Science departments, this gathering involves a series of speakers discussing issues surrounding gender and politics. On Nov. 13, Love Your Body Day will be held. This event focuses on the societal pressures and cultural portrayals of women's bodies. The main message of this event is to love and accept every body type, not just the one that is portrayed by the media. A cultural panel is held to discuss various standards of beauty in different communities, and booths will include various games and activities to promote body positivity and health.
WOA meetings are held once a week, from 4-5 p.m. in Aztlan in the Conrad Prebys Aztec Student Union. The meetings provide a safe place for students to address various issues and open topics for discussion. Not only do the meetings focus on problems surrounding women's rights and gender equality, but they also pose suggestions working towards solving some of these problems.
New topics are discussed each week, and members can provide suggestion as well as participate in discussions. While the discussions point out flaws in modern media and society and the corresponding negative effect these flaws have on women, the conversation often focuses on those who are working to change the system. Women's studies and political science sophomore Nassim Moallem is vice president of the club. Along with the fight for women's rights, Moallem touched upon the acceptance and support WOA gives to all students.
"I hope that WOA provides a safe space for women and men to open up about their experiences, and better understand how the effects of sexism impact their lives," Moallem said.
The life and work of Andrea O'Donnell is remembered in every meeting, rally, and event at SDSU that promotes equal rights and empowers women. Through WOA, SDSU students can become active in the fight for gender equality.