Tasty Tuesday: Brunching in North Park at West Coast Tavern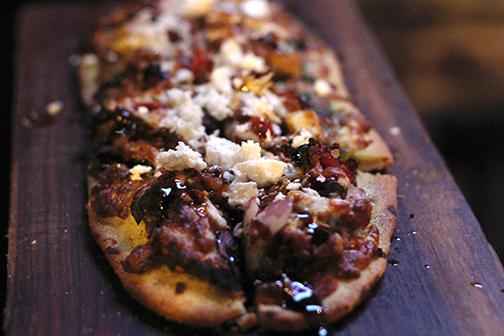 What was once a popular theatre is now a delicious spot for brunch, lunch and dinner.
The West Coast Tavern is easy to find, located directly below the North Park sign on University Ave. This sweet spot will serve as a solution to a hungry tummy while doubling as a prime location for an Instagram picture under the historic facade of the building.
Although they offer delicious menus at all hours of the day, I visited the tavern on a Sunday afternoon with my parents. What better way to catch up with Mom and Dad than over some brunch, while watching the game on a giant projector?
The brunch menu has something for every appetite. Eggs Benedict connoisseurs will rejoice when they read the "Bennies" section of the menu. Beef tenderloin, grilled asparagus and prosciutto benedicts are all unique takes on the classic dish.
I found myself in more of a sweet than savory mood, so the blueberry waffles caught my eye. After some chatting with our friendly, attentive waitress, my decision was made.
Soon I found before me four golden, buttery waffles complete with a blueberry puree, garnished with fresh blueberries and a dollop of lemon mascarpone to top it off for $12. These were not your average waffles, each bite had layers of flavor from the fresh citrus of the lemon to the tart taste of fresh blueberries. It was love at first bite.
Also, the two slices of thick-cut hickory bacon were more than satisfactory. My only recommendation would be to share this plate of sweet buttery goodness, because the portions are generous and you will end up boxing at least half for leftovers.
My mom is a sucker for fancy mocktails. The $6 watermelon mint cooler is a mix of watermelon juice, mint syrup, lime, pineapple, cranberry and Sprite. It was an easy choice for her. I stole a sip or two throughout the meal and even took a picture of it because the skewered watermelon cube presentation was on point.
Keeping with the fruity theme, she opted for a seasonal selection of a $9 strawberry salad for her main dish. The salad is comprised of mixed greens, strawberries, red onion, feta cheese, avocado, topped off with strawberry vinaigrette. She loved it and gave it two thumbs up.
My dad is the typical manly man; think somewhere along the lines of Ron Swanson. Not surprisingly, "Marcos' Chicken Sammi" slathered in a smoked Jalapeno aioli was the perfect companion for his build-your-own bloody Mary from the brunch libations menu.
The fresh and funky twists on brunch favorites at the West Coast Tavern accompanied by the historic atmosphere and friendly staff makes it the perfect Sunday brunch destination.