Aztecs fail to stun No. 10 Stanford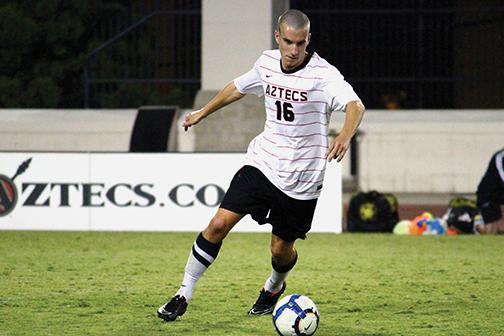 by Patrick Carr, Staff Writer
October 13, 2014
Sometimes a trip up to the Bay Area can be just what a person needs: a calm, relaxing excursion into a place where temperatures lower than 100 degrees actually exist.
For San Diego State's men's soccer team, the trip got off to a bad start Thursday night when it was thoroughly beaten 2-0 by Stanford University.
"Stanford was absolutely phenomenal," head coach Lev Kirshner said. "They're a shove-it-down-your throat, deliberate and very physical team."
The statistics only backed up what Kirshner said. Stanford outshot SDSU by an overwhelming 21-5 in the match. However, the Aztecs came out flat in the first half against a Stanford team eager to avenge its loss at the hands of No. 1-ranked University of Washington.
SDSU didn't get a shot off until the 14th minute when freshman forward David Olsen, the Aztecs' leading scorer, shot wide of the Cardinal's goal.
The Aztecs were playing on the back foot the entire night, but it was a slip of misfortune on SDSU's part that gave Stanford their first goal.
In the 22nd minute, the Cardinal's senior defender Jimmy Callinan drove into the penalty box from the right side and sent a cross to the back post that Aztecs' sophomore midfielder Mark Revell just missed, allowing Stanford's senior forward Zach Batteer to score on a header for a 1-0 lead.
Kirshner said that SDSU was overrun in the first half and that they were very lucky to only be trailing 1-0.
The Aztecs came back in the second half and played the Cardinal at the level needed to win, but Stanford grabbed a second goal in the 72nd minute to shut the door on the young SDSU squad.
The Cardinal's junior defender Brandon Vincent got the ball around 25 yards and unleashed a powerful shot that blew past the hand of Aztec redshirt freshman keeper Adam Allmaras for the final 2-0 lead.
SDSU drops to 6-5 on the season and is still winless in conference play.
Check out TheDailyAztec.com to see how the Aztecs fared in their Sunday match against University of California, Berkeley.