Rotaract inspires 'service above self'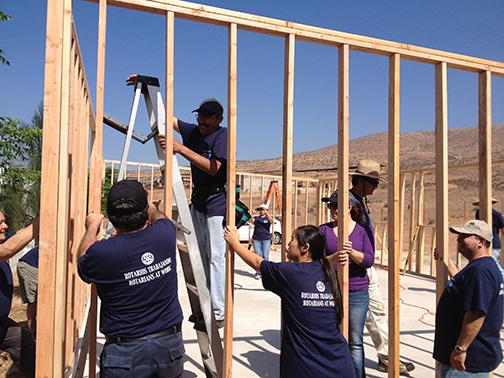 The Rotaract club began in 1968 in Charlotte, North Carolina, and has become a global effort to bring the world closer together. With roughly 9,000 clubs around the world there are more than 20,000 Rotaract members worldwide. San Diego State welcomed the club to campus on July 22, 1992, and has never looked back. Working with the slogan "service above self," Rotaract members are leaders at SDSU. Rotaract members participate in community service events aiming to assist the community while building leadership skills within themselves.
According to the Rotaract website, "The purpose of Rotaract is to provide an opportunity for young men and women to enhance the knowledge and skills that will assist them in personal development, to address the physical and social needs of their communities, and to promote better relations between all people worldwide through a framework of friendship and service."
"We typically have two community service events available per weekend with one community service event being highlighted per month." Rotaract SDSU President Jane Kwon said.
Most recently the Rotaract club participated in the 100 waves challenge at Mission Beach. This project assisted the Boys To Men organization, which mentors and aligns young boys by providing them with small goals aimed at setting them on the right track.
While students are doing all they can within the local community, Rotaract also donates money to local organizations working further away from campus.
"We also donate money to a local beneficiary, which this year is Corazon, a non-profit that builds homes in Mexico for families who are underprivileged," Kwon said.
Club meetings consist of both speakers from the sponsoring club as well as events to mingle with other members. Rotaract is open to all students at SDSU who meet the minimum requirements, which include being active in two other organizations and having a GPA of at least 2.5.
"With having a two student organization minimum to apply, it allows members to bring so much diversity and new ideas to the table," Jordan Maharaj, a current member of Rotaract, said. "With so much involvement, it's a great way to network."
"We are looking for the top student leaders who are passionate about the community and helping others," Kwon said.
Rotaract is an empowering and meaningful club aimed at helping students and the San Diego community.
"Rotaract is a great way to do community service with people who love to do it as well," Said Maharaj. "Since we work closely with Rotary clubs in our district, it allows us to make great professional connections too."
Rotaract is doing life-changing work both for the community and its members.
"I fell in love with service and giving back to my community," Maharaj said. "It gave me a sense of purpose and ultimately, changed my life. I think it's amazing how a group of us can make such a huge impact on our community."
"It is an amazing chance to not only help the community, but also connect with exceptional leaders on campus and the community as well," Kwon said.