Rainbow Warriors to test Aztec runners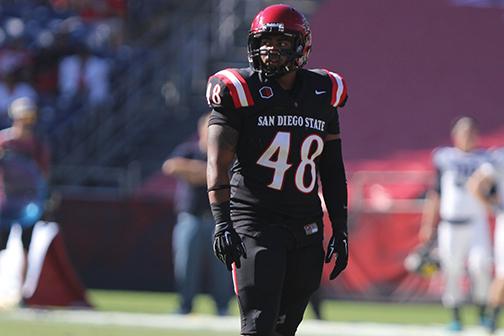 by Ryan Posner, Staff Writer
October 16, 2014
The San Diego State Aztecs (3-3, 2-1 MW) will look to make it two wins in a row this Saturday, when they take on the University of Hawaii Rainbow Warriors (2-4, 1-0 MW) at Qualcomm Stadium.
Sitting at .500, the Aztecs are not where they wanted to be at this point in the season, but senior cornerback J.J. Whittaker believes the team can use the slow start as a learning experience.
"We took a loss, but if anything it's a learning curve, and we understand what it takes to win," Whittaker said Tuesday during the team's weekly press conference.
Hawaii has had a sub-par start to its season as well, but is coming off a 38-28 win against the University of Wyoming in its first conference game of the season.
"It doesn't matter who you are playing, every team is good enough to beat any other team," head coach Rocky Long said Tuesday.
What Hawaii does best is stop the run. It's held its opponents to a meager 3.24 yards per rush, and only 125.8 yards a game, good enough for 36th in the nation.
"For those of you who don't know much about Hawaii, they are the most physical and very talented defensive team that we play all year," Long said. "Their front seven is big and strong and they're very aggressive."
This spells a problem for a team that lives and dies by the contributions of sophomore running back Donnel Pumphrey, who is 11th in the nation with 807 rushing yards.  Long acknowledged that Hawaii defends the run "extremely well."
Pumphrey is coming off his best game of the season though, after he rushed for a career high 246 rushing yards and three touchdowns carrying the Aztecs to a win last week against the University of New Mexico.
"Our offensive line did a great job at blocking them, giving seams to our running backs, and our running backs are pretty good," Long said.
Hawaii has a talented running back of its own in 6-0, 245 pound senior Joey Iosefa, who Rainbow Warriors in rushing touchdowns with four.  Iosefa has only played in two games because of injury.
Iosefa was slated to return against the Aztecs, but was arrested on suspicion of drunk driving last Sunday morning. His status for Saturday's game is questionable.
It may not matter who is in at running back for Hawaii, though. SDSU's defense is coming off one of its better performances of the season, holding New Mexico to 263 yards of total offense, its lowest number of the season.
"They play physical, the whole defensive line, and that makes my job a lot easier," senior linebacker Josh Gavert said Tuesday. "They're holding off their offensive line and keeping them from coming up to the second level, I can see things clearer, I can make more plays."
Freshman quarterback Nick Bawden  was given the start last week but was replaced at halftime by senior Quinn Kaehler who had been nursing a shoulder injury. Kaehler only threw three passes but Long noted that he was sore after the game.
Long does believe Kaehler will start on Saturday.
"He threw as well as he could throw in pre-game warm-ups, so we think he is going to play," Long said.
There is some uncertainty at the quarterback position for the Rainbow Warriors as well. Sophomore Ikaika Woosley opened the season as the starter, but had been replaced by senior Taylor Graham mid-season. However, Graham broke his foot in the team's win against Wyoming, so Woosley will resume his role as the starter.
The key matchup in this game will be Pumphrey against the fiery front seven of Hawaii. That matchup possesses each team's biggest strength, and should determine the winner.
Look for Pumphrey to continue his hot streak as Kaehler re-establishes himself as the starter for the rest of the season.
The game time is scheduled for 7:30 p.m. this Saturday, and can be seen on CBS Sports Network or heard on the radio at The Mighty 1090.