Aztec hockey ices Panthers 12-2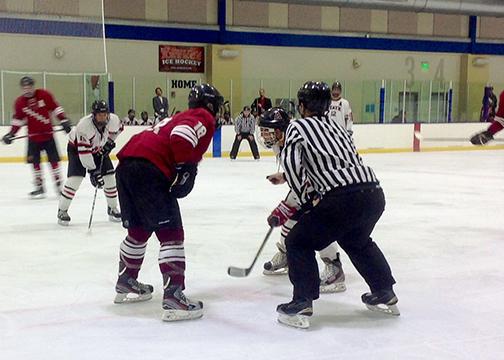 by David Frerker, Contributor
October 16, 2014
On Friday night, the San Diego State club ice hockey team showed they were the superior team out on the ice against the Panthers of Chapman University.
The Aztecs shot out of the starting gate with two quick goals in the first minute of play at the Kroc Ice Arena. SDSU went on to defeat the Panthers by a score of 12-2.
Nine SDSU players found the back of the net against Chapman. Senior forward John Riley collected his first hat trick of the season, moving his season total to six goals.
The Aztecs played so fast on the ice that every Panther possession looked as if it was played in slow motion. SDSU put on a shooting clinic, taking a total of 36 shots on goal. Panthers' freshman goalie David Norick did his best to limit the damage by making 24 saves.
Freshman Carl Smith made his first start of the season for SDSU recording eight saves on 10 Panther shots. This win comes after SDSU was shut out in two games last weekend by Northern Arizona University.
"I think that we were anxious to get back, we went all the way up to Northern Arizona in Flagstaff and did not score a goal," head coach Ryan Weston said. "I don't think that settled well with our boys. I think tonight we have a better program than theirs to be quite frank and our guys were hungry to get on the right side tonight."
Riley was pulled from the game with an equipment issue after playing solid two periods and scoring three goals. Riley accepted the penalty and was seen providing his knowledge to the audience during the third period of the game. The Aztecs also pulled some of their starters in the third period to allow the backups to receive more ice time.
SDSU will return home at 9 p.m. this Friday at the Kroc Ice Arena taking on Pac-8-rival Arizona State University. Admission is free for SDSU students with Red ID.