Women's tennis to host ITA tournament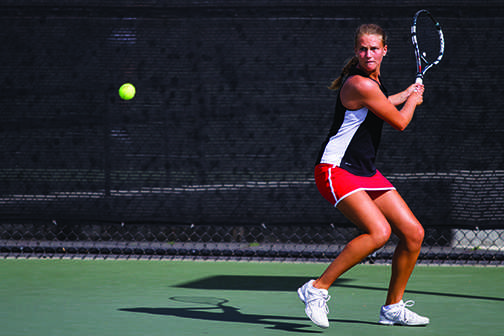 by Zachary Loper, Staff Writer
October 16, 2014
Hang on for a minute...we're trying to find some more stories you might like.
The San Diego State women's tennis team returns to action this weekend for the Intercollegiate Tennis Association Southwest Regional Championships which spans over five days, Oct. 16-20. The tournament will be co-hosted by SDSU and the University of San Diego, which will take place here in San Diego at the Barnes Tennis Center. The tournament starts on Thursday at 9 a.m. and will continue through Monday when the final rounds will commence and the winners will be anointed.
This will be a return to action for the women who last played in their Fall Classic Tournament in the final weekend last month, Sept. 26-28. This will be the first travel for the women of the season, though it is mere minutes from campus and an exciting preseason opportunity to see the top talent from the region's best schools.
All seven returning players from last year's team competed in the tournament in which junior Tami Nguyen and senior Hailey Johnson advanced to the round of 32. The team will look to see the same level of success  but will face some of the top players in the country.
With schools like University of Southern California, Pepperdine University, Arizona State University and the University of California, Los Angeles, playing the women will see tougher competition than that from the Fall Classic Tournament.
UCLA, whose players took both the singles and doubles championship in last year's tournament will enter as a favorite to repeat this year. Five of the top 25 ranked players according to the women's preseason singles ranking, done by the ITA, will compete. Two of those players come from UCLA, two come from USC and one from Pepperdine. These should be the teams making headlines throughout the weekend.
The Aztecs do not have any players ranked out of the list of 150. However, SDSU can still make some noise as they did in last year's tournament and will have the advantage of being close to home.
Following this weekend's tournament, the Aztecs will next compete in their Fall Classic Tournament II in the beginning of next month, Nov. 7-9. That will be the final action of the preseason before they kick the season off in late January.
All seven returning players from last year's team competed in the tournament in that Nguyen and Johnson advanced to the round of 32