Climbing club climbs its way to the top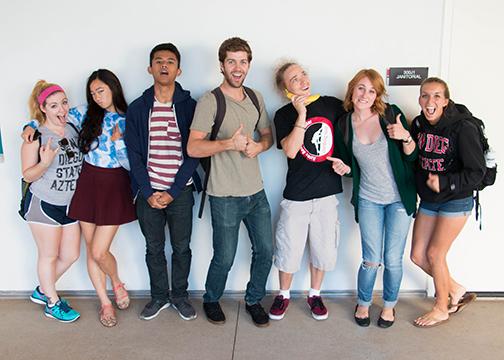 It's hard to miss the daring individuals who repel down the 30-foot climbing wall in San Diego State's very own Aztec Recreation Center. However, if the ARC wall doesn't satisfy one's climbing craving, the Climbing Club is here to fix that.
The recently established Climbing Club is growing in numbers and continues to encourage students to join. Members can be experienced climbers or completely new to the climbing world.
"When I joined I was so new to climbing, but the experienced members were very supportive and made me feel really comfortable," freshman newcomer Kelly Dinh said.
The Climbing Club goes on many adventurous outings that not only test their skills, but is also fun. Past outings have included weekend trips to Mission Gorge, Santee Boulders, People's Wall and the club's personal favorite, Joshua Tree. The Climbing Club can also be found occasionally testing their abilities on the ARC wall after meetings. In addition to the expected climbing, the club is also developing community service projects to participate in and even potlucks to enjoy.
"This year we're trying to get more people together as a group, that includes coming together and not climbing," Thomas Bradford, the public relations officer, said.
The adventurous and zany attitudes among this organization truly make this club one-of-a-kind. This club is perfect for beginners wanting to try out the ropes in rock climbing, or for veteran climbers wanting to improve their skills.
Club dues are only $10 per semester. Those payments go toward purchasing new gear, equipment and t-shirts.
Club President Emily Kraemer has been rock climbing for four years, and has worked at the ARC wall for three. The world of rock climbing has a strong sense of community and camaraderie, and those characteristics are reflected in this organization.
"It's really about building a community around San Diego State," Kraemer said.
The Climbing Club is more than just a group that goes on rock climbing excursions, but an organization that promotes togetherness through the shared activity of climbing.
"Everyone has their community on campus, and climbing is mine," Kraemer said.