Women's tennis falls to Trojans in ITA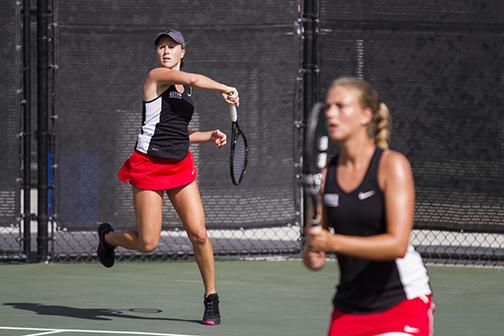 by Zach Loper, Staff Writer
October 24, 2014
The San Diego State women's tennis team wrapped up the Intercollegiate Tennis Association Southwest Regional Championships this past weekend, claiming victories in both the doubles and singles draws.
The tournament was played at the Barnes Tennis Center in Point Loma, hosted by some of the best schools from the region including University of California, Los Angeles, Pepperdine University, University of Arizona, and the outright victor of the weekend, University of Southern California, who claimed both the singles and doubles titles.
However, the Aztecs competed very well throughout the weekend and walked away with victories on all three days that they competed. On the opening day, SDSU finished up with three single victories in the opening Round of 128 and three in the Round of 64. In the doubles draw, the teams of juniors Tami Nguyen, Dora Somoracz, freshman Paola Diaz de Regules and senior Hailey Johnson both advanced to the Round of 32 with victories, where they were joined by freshman Jana Buth and senior Kristin Buth.
SDSU was well represented in day two with three singles players remaining — Kristin Buth, sophomore Kennedy Davis and Nguyen. Along with the singles players, three doubles teams also remained in the Round of 32. Kristin Buth would go 2-0 in the Round of 32 by way of a singles victory over her University of San Diego opponent junior Shani Blecher, and a shared doubles victory with her sister Jana. Davis and Nguyen both went on to fall in two set defeats to their opponents, leaving Kristin Buth as the only remaining singles player heading into the Round of 16.
Nguyen's weekend wasn't over however as she and her doubles partner would go on to win against their USD opponents. The Diaz and Johnson pair was unsuccessful in doing the same, though, which finished the Aztecs' day for the doubles draw. Before the day was over, Kristin Buth played her third match of the day against the No. 1-seed senior Zoe Scandalis of USC. According to the ITA, Scandalis was the preseason's No. 15-ranked player in the country. Kristin Buth would go on to lose in two sets (6-3, 6-2) to Scandalis who would eventually claim the singles title.
SDSU entered the final day with two doubles teams in the Round of 16. The Nguyen/Somoracz team managed to upset the No. 1-seeded duo of UCLA in one of the better matches of the weekend for the Aztecs. The Buth sisters would fall to their Arizona State University opponents, setting up the quarterfinals with one final SDSU representative. Nguyen and Somoracz ran into another USC opponent who ousted the Aztecs, winning a close match (8-6). That would finish the Aztecs' successful weekend of tennis.
The Aztecs will play next in their own tournament, the SDSU Fall Classic II beginning on Nov. 7.