Toilet event advocates for gender-neutral bathrooms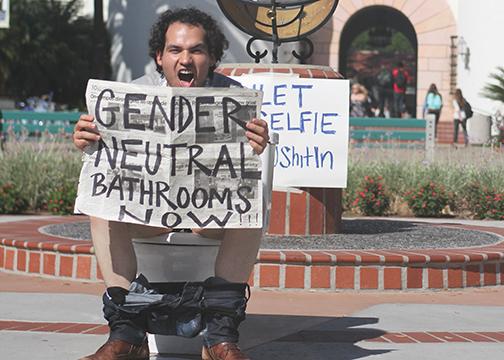 Five toilets were placed in front of Hepner Hall on Tuesday, Oct. 21 as part of the SDSU S–In demonstration.
Students walking by giggled, stared, took pictures and posed on the toilets, some with their pants pulled down, most eager to share a funny photo with friends and find out why the bathroom appliances were in the middle of the walkway.
This shock factor was what members of the Trans* Action and Advocacy Student Coalition hoped would spark curiosity among San Diego State students, faculty and staff as they demonstrated to raise awareness about the need for gender-neutral bathrooms on campus.
"The point of this event is to raise awareness for trans* rights and transgender issues and we're advocating for more gender-neutral bathrooms because oftentimes gender-specific bathrooms, which is the men's and women's bathrooms, are unsafe," TAASC Force member A.T. Furuya said.
Furuya said gender-neutral bathrooms give students the opportunity to go to the bathroom without fear of being "gender policed," which is when other people in the bathroom tell them, "You don't belong in here."
Because of this, the TAASC Force has challenged men and women to stop using gendered bathrooms for one week.
The purpose of the challenge, according to a pamphlet provided at Tuesday's demonstration, is to "form an understanding of the challenges Trans* and gender non-conforming folks face accessing bathrooms and to inspire people to fight for more gender-neutral bathrooms."
Furuya said they, which is the gender pronoun Furuya identifies with, along with other members of the TAASC Force spent hours speaking with members of Associated Students last semester about the importance and need for gender-neutral restrooms.
These discussions led to the construction of these bathrooms on the second floor of the Conrad Prebys Aztec Student Union.
Furuya and fellow member of the TAASC force Thomas Negron Jr. said that while there has been change, there has not been enough.
Negron said that the gender-neutral bathrooms available are still more inaccessible than the gender-specific restrooms on campus.
"There is change, but it's not happening fast enough. Everybody keeps saying 'oh we're talking about it, we're having meetings about it,' but while you're holding meetings, people are holding their piss."