Despite season's struggles, men's soccer to shine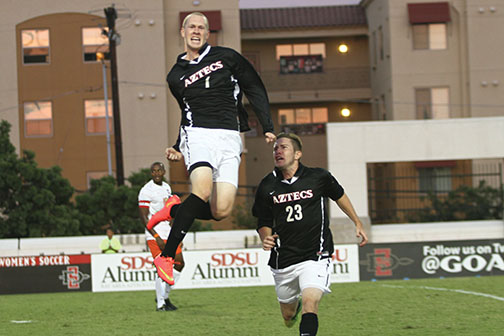 by Patrick Carr, Senior Staff Writer
October 27, 2014
One night at the SDSU Sports Deck, fans taking in a San Diego State men's soccer match fell silent. The fate of the match was put onto the right foot of a 17-year-old freshman.
They roared with delight when he scored. He roared louder.
Moments like those might be more common every time SDSU's men's soccer team takes the field at the Sports Deck whether under a dark, black sky or San Diego sunshine.
The Aztecs are a very young team that's provided solid results this year. SDSU has taken down three top-25 teams in a 7-8 campaign as of Oct. 24, and it looks like it could make a lot of noise in its conference, the Pacific-12, in the next couple of years.
But does 7-8 really foreshadow a bright future? Doesn't it kind of reek of the status quo?
The numbers don't matter as much, it's how the Aztecs have gotten there and who's taken them that paints an interesting picture.
Head coach Lev Kirshner recruited a talented, diverse group of 21 new players, most of them freshmen. Even the starting lineup is predominantly made up of new faces.
Eighteen of SDSU's 20 goals this year have been scored by newcomers with 14 of them by freshmen. And that still doesn't tell the whole story.
"They're a team that wants to learn, they're a team that listens very well in the training sessions, that's creating this growth that's continuing to make us better and better each night," Kirshner said after a 4-3 win against No. 19 University of Denver.
The way the Aztecs lost their first game — an exhibition at University of San Diego where USD scored twice in eight minutes to steal an overtime win from SDSU — it seemed like the inevitable learning curve would be very painful.
But after that and a regular-season opening loss, they won five in a row, four of them by one goal and two against top-25 teams.
Kirshner's repeatedly said after matches this year that this team has a long way to go, citing a steep learning curve. But he's also optimistic and pleased with much of how the season's progressed.
"What I do have is a bunch of winners with the right desire and the right drive to win and they're going to work their butts off for their brothers," he said after the Aztecs' win against No. 25 Clemson.
Aztecs' win against No. 25 Clemson.
A late-game penalty scored by freshman forward David Olsen was the difference in that game, and just the start of the Aztecs' success.
Two days later, Kirshner's observations hinted at a larger story.
"This was not our greatest effort, (but) we found a win and that's the mark of a great team," he said.
Then the Aztecs approached their biggest test; the Pac-12. The schedule pits SDSU against four different ranked teams on two separate occasions, once on the road and once at home. Oregon State University may not be ranked currently, but they've been in the top-20 for most of the season.
The Aztecs fell to No. 2-ranked University of California, Los Angeles, in a  1-0 tug-of-war where SDSU only slipped up for 15 seconds throughout the entire match.
Two tough road losses followed before Olsen's goal propelled SDSU to its first conference win, a 1-0 decision against Oregon State.
The Aztecs then lost 3-2 to the No. 1 team in the nation, University of Washington, a game where SDSU showed great resolve to fight back from a 2-0 deficit.
But after another road loss, 2-0 to Oregon State, the Aztecs currently sit with a 1-5 record in the Pac-12. However, SDSU showed it could go toe-to-toe with the best.
Soccer is fragile. One step or one kick of the ball can completely turn a game upside down. This SDSU squad knows that.
"(When) you play good teams it's very little that separates victories from losses," Kirshner said. "We've got a group that's very much a grinding, blue-collar, working-for-each-other type group."
Sometimes, they've gotten on the bike and fallen down, getting up with skinned elbows and knees. Other times, they've picked up speed only to use the front brake and fly over the handlebars.
The core group of Olsen and fellow freshmen midfielder Ozzie Ramos, midfielder Jeff Rhodes, forward Brady Blackwell, forward Donald Benamna and  keeper Adam Allmaras has made a name for itself.
They're complemented by talented sophomores; forward Forrayah Bass, midfielder Travis Nicklaw and midfielder turned starting defender Casey Macias.
Even some of the players who haven't seen a lot of playing time this year will undoubtedly be called upon in the near future to play big roles.
The winds of change are whipping around the SDSU Sports Deck every match. Those winds might take this team places they never thought possible.