Nevada spoils Fely's return in Reno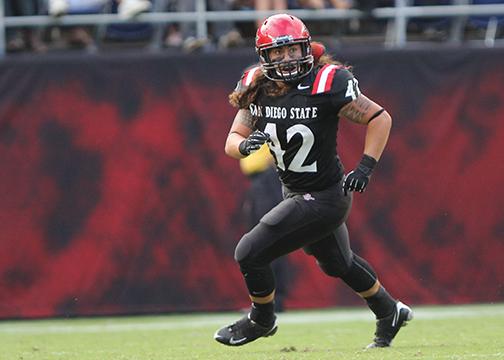 by Ryan Posner, Staff Writer
November 3, 2014
The San Diego State Aztecs dropped to second place in the Mountain West's Western division after they were defeated 30-14 by the University of Nevada, Reno Wolf Pack last Saturday in Reno.
Sophomore running back Donnel Pumphrey eclipsed 1,000 rushing yards on the season during the game, but struggled rushing for 86 yards on 13 carries, and no touchdowns. It marked the third time this season that Pumphrey did not exceed 100 yards, and was his lowest yardage total since he rushed for 89 against Oregon State University.
What was more uncharacteristic of Pumphrey's game was the fact that he fumbled twice, including once in the red-zone.  As a team, the Aztecs turned the ball over three times.
"Turnovers killed us," head coach Rocky Long said after the game. "We had what looked like pretty good drives going and the turnovers killed us. It doesn't matter who does it, it is disappointing when someone fumbles."
Even with the turnovers, SDSU managed to hold a 14-10 lead at halftime, thanks to a 21-yard pitch and catch from senior quarterback Quinn Kaehler to junior wide receiver Jemond Hazely for his first career touchdown.
The second half was a different story, though. The Wolf Pack was able to take advantage of an SDSU defense that played well, but was gassed because the offense could not stay on the field.
SDSU's defense held tough, despite a couple of poor punts that gave Nevada great field position, limiting Wolf Pack senior quarterback Cody Fajardo to four yards rushing and 109 yards passing.  In the past, Fajardo has torched the Aztecs. This year, it was Nevada's running backs that did the damage, out-rushing SDSU 229 to 135.
Long blamed himself for taking chances on defense that may not have  been warranted, and ended up giving Nevada opportunities.
"You can put the two long runs on me, we couldn't move the ball on offense and we couldn't score any points, we took some chances that we hadn't taken the whole game up to that point," Long said. "We took some chances and tried to blitz the run and try to hit a guy in the backfield, maybe cause a fumble, and turn the momentum in our way."
The  "home runs" that Long was referring to were a 43-yard touchdown run by freshman running back James Butler and a 47-yard run by junior running back Don Jackson, both of which occurred late in the fourth quarter. Jackson would end up scoring on a one-yard touchdown following his big run.
SDSU had relief on defense with the return of junior linebacker Jake Fely, who tied for a team-leading six tackles. Junior defensive linemen Christian Heyward and Jon Sanchez also had good games with two tackles for a loss and a sack each, but the big plays from the Wolf Pack sealed the Aztecs' fate.
Despite the turnovers and the big plays given up on defense, SDSU led 14-13 heading into the fourth quarter. The offense was not able to consistently move the ball down field, even with senior wide receiver Ezell Ruffin returning from injury.
"I am always disappointed when we don't win a game, and tonight's game we had a lot of people responsible," Long said. "In the second half you have to give them credit for playing defense because we didn't move the ball consistently in the second half at all."
Senior quarterback Quinn Kaehler started the game five of five passing, but finished 21 of 36 with 189 yards, a touchdown and an interception.
He was not able to utilize Ruffin much in his return, as he caught only three passes for 21 yards.
With the loss, Nevada took sole possession of first place in the MW's Western division, thanks to a loss from California State University, Fresno.
The Aztecs will not have a chance to improve their MW record this week as they return home to play University of Idaho (1-7, 1-5 Sun Belt), a non-conference opponent at 3:30 p.m. Saturday at Qualcomm Stadium.