Creating hope for small conference teams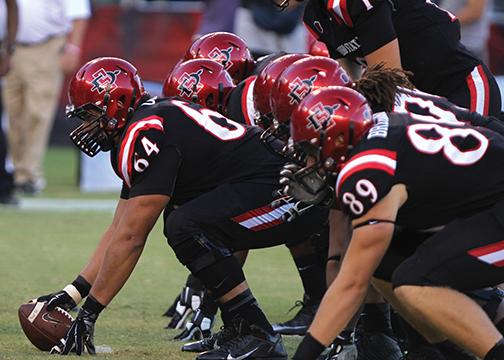 by Cameron Salce, Staff Columnist
November 3, 2014
Hang on for a minute...we're trying to find some more stories you might like.
Jim Mora's famous press conference meltdown perfectly portrays every San Diego State football fan's attitude toward the College Football Playoff. "Playoffs? Don't talk about playoffs! Are you kidding me? You want to talk about playoffs? I just hope we can win a game."
Every power conference in the NCAA, except the Southeastern Conference, is complaining about possibly being left out of the first annual College Football Playoff. The way the playoffs are currently constructed, many wonder if the Mountain West Conference could ever have a team in the mix.
The College Football Playoff essentially pairs the top four teams in the country in head-to-head matchups. The No. 1 team in the nation plays No. 4 and No. 2 plays against No. 3.  A 13-member selection committee decides who these four teams are.  The group mainly consists of former coaches and former athletic directors, as well as former U.S. Secretary of State Condoleezza Rice.
Last week the selection committee put out its first top 25 rankings — essentially putting out the first playoff projections of the year. It included defending National Champion Florida State University from the ACC and SEC teams Mississippi State University, Auburn University and University of Mississippi.
Where does that leave SDSU  or any Mountain West Conference team's chances to make it into the College Football Playoff? While there have been Mountain West teams such as Boise State University to make BCS bowl games in the recent history, the conference lacks one stand-out premiere football team. By most accounts, the conference has almost zero chance of ever making it into a four team-formatted playoff.  A MWC team would likely have to have an undefeated regular season with a remarkably strong non-conference schedule stacked with ranked opponents before handily winning the MWC championship game to even get a whiff of the College Football Playoff.
After this year's College Football Playoff, we'll all have a better understanding of how the selection committee chooses the top four teams.  Until then, we don't know if the committee thinks a one-loss team from a particular conference should be ranked higher than undefeated team from another conference.
Currently there are three college football teams without a blemish on their records. Of these three teams, only Marshall University is not in a power five conference.  Marshall is in Conference USA, a conference that provides a worse strength of schedule than even the Mountain West.  If the Thundering Herd remain undefeated at the end of the season and don't get into the College Football Playoff, Aztec fans can pretty much kiss their future playoff hopes goodbye as well.
One way to make the College Football Playoff more exciting and less conference biased would be to reconstruct the way the playoff is formatted altogether. There should be 12 teams in the College Football Playoff: the 11 champions from each conference in Division I and one wild card top non-champion team.  It would be single elimination and the top four teams would get a bye. The NFL uses this type of format with all division winners being represented in the playoffs and two wild card teams.
This would bring an NCAA-basketball-tournament feel to the College Football Playoff, giving the non-power conference teams such as SDSU a shot to take down a perennial powerhouse team from a power five conference.
This alternative playoff format would also put more incentive on teams winning their respective conferences, which would make conference games must-wins and conference championship games play-in games into the tournament.
On the other hand, this hypothetical format has its flaws just like the current College Football Playoff does.  My suggested format would make many power five conference fans laugh, claiming that most champions from lesser conferences don't belong on the same field with SEC, Big 12, or Pacific-12 conference champions.
However, last year the University of Connecticut's men's basketball team showed the entire nation that a National Champion isn't always highly ranked and expected to win at the start of the tournament.  The beauty of the Big Dance is that some of the teams that face off in the first round are thought of as David vs. Goliath matchups, where David often wins.