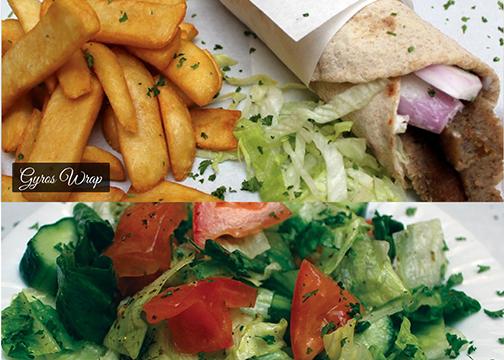 While walking around the vibrant streets of Hillcrest, I was a bit unsure of eating at a Lebanese restaurant (I know I'm not the only one who has no idea what Lebanese food is). However, I'm definitely glad I stopped for lunch at Micho'z Lebanese Grill. It was certainly a tasty experience.
Located on University Avenue, Micho'z is in the heart of Hillcrest. This street-side restaurant is easily spotted and accessible with it's large outdoor patio seating. Many seating options are available inside as well. The interior has a rustic feel while also proudly displaying aspects of the Lebanese culture.
For those unfamiliar with Lebanese food, as I was, it's easily comparable to Greek food. Many dishes include the options of beef, gyros, chicken and shrimp while also catering to those who are vegetarian. Some of the more notable meals include the chicken schawama, kafta kabob and manakeesh.
For starters, guests receive complementary salted carrots. The carrots tasted of a strange combination of salty and sour flavors which could be unappealing to some.
After sifting through the detailed menu, I was fortunate enough to sample two different main dishes. The first dish was a feta chicken wrap, but it's important, however, that I describe its side dish first.
Micho'z undoubtedly served me the best green beans I have ever consumed. There was really nothing to them, just salt and pepper; perhaps it was the simplicity of the green beans that made them so delicious — but, either way, the quality of these fresh vegetables definitely stood out.
The feta chicken wrap was decent. The chicken had a good flavor, however, there was an excess amount of tzatziki sauce in the wrap that easily washed out the chicken's flavor.
The second dish I  sampled was a spinach and cheese pie. This triangle shaped dish, similar to a calzone, was stuffed with tomatoes, feta, mozzarella, spinach and a lot of flavor. It was sliced into many small pieces that made it easy to eat, and thankfully, easy to share.
Prices at Micho'z are reasonable and entrees range from $6 to $14. From the portions and items provided, the cost is worth it.
Despite the excess tzatziki sauce, Micho'z has excellent food with fantastic service. Although there were only two workers visible, the service was still quick and enjoyable. For a Saturday afternoon, the restaurant wasn't crowded and allowed for an even more satisfying experience.
So for those in the mood for Lebanese, or a to-die-for side of green beans, Micho'z Lebanese Grill is certainly a must.