Tasty Tuesday: Mexican ice cream shop inspires sweet dreams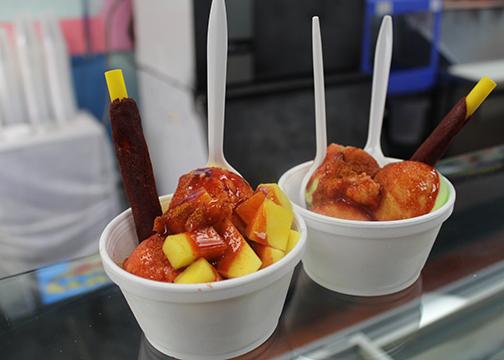 Neveria Tocumbo, located in Chula Vista, is definitely a trip down memory lane satisfying every craving of Mexican sweets. Upon walking inside the small Mexican ice cream shop, I was greeted by the sound of Mexican music and the colorful menu that displayed exactly what I craved: a mangoneada with chunks of mango drizzled in chile.
Tocumbo does not serve your ordinary shaved ice raspado with cherry syrup. Their specialty is homemade, natural ice cream made with real fruit. Hence the name "neveria," which means "ice cream place" and Tocumbo, the name of a town in Michoacan, Mexico, where the specialization of the people is making ice cream.
Tocumbo's long list of ice cream flavors is not an easy choice. There are fruit flavors such as strawberry; coco and even rocky road, cookies n' cream and not-so-ordinary flavors such as arroz con leche (rice with milk).
My favorite flavors are mango and lemon so it was only natural that I order a mangoneada and insisted to my friend she should get the diablito, with lemon ice cream. As soon as mangoneada hit my taste buds I heard a choir of angels singing hallelujah in my head. It was truly the taste of heaven. Growing up in a Hispanic community, I've tried my fair share of mangoneadas and this one exceeded by far. The rich creamy ice cream tasted like I was biting into a real mango.
To satisfy my crunchy craving, I ordered churros locos that were large enough to share. The churritos (Mexican corn chips) were served in a cup with diced cucumber, Japanese peanuts, tamarind candy and showered in chile and tomato juice. They had the perfect kick of spice.
The 20-minute trip to Chula Vista is not one I take often so it only seemed fitting that I should make the trip count and have seconds on dessert. Tocumbo's colorful array of ice cream popsicles kept calling to me. I normally choose my go-to flavor, coco, but I ventured out to try the rice with milk flavor and it did not disappoint. This flavor took me back to the winter nights when my om made warm rice with milk.
For some extra flavor, you can choose to have your ice cream dipped in chocolate and sprinkled with coco or nut pieces.
Without a doubt, I will be going back to Neveria Tocumbo. The inexpensive price for ice cream that is made with real fruit is worth the drive, not to mention there are still so many flavors I need to try. I recommend my fellow peers to leave their typical fro-yo order and venture out to some Mexican goodness.