A year later, Terry remains hopeful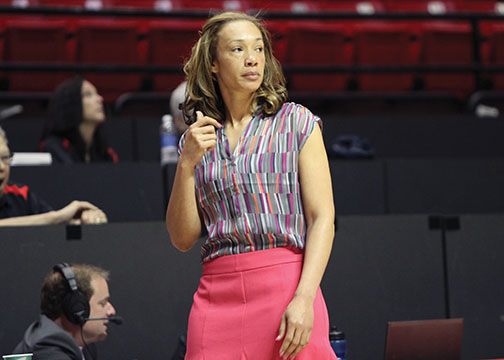 by Ryan Posner, Staff Writer
November 6, 2014
Stacie Terry's history in San Diego started long before she stepped on the Mesa as the San Diego State women's basketball head coach in 2013.
Terry grew up in San Diego and went to El Capitan High in Lakeside. When SDSU came calling offering Terry her first head coaching job, it was a homecoming and dream come true all at once.
"I was extremely blessed, coaching basketball has given me so many opportunities, but most of them have been outside of (California)," Terry said. "For my first head (coaching) job to be in my home city, at an institution I was so envious at growing up, it's an honor."
The location of the job was a dream come true for Terry, but the situation she was dropped into was not as favorable. Before the season she was down four starters who had graduated, and during the season she dealt with a multitude of injuries.
After all was said and done, the team finished the season 13-17, and went 9-9 in the Mountain West.
"When things are thrown at you, you have to make the best of it, you can't make excuses," Terry said.  "When you start making excuses you're going to find reasons to be OK with failure."
Another challenging aspect of Terry's first season was the fact that she was replacing long-time head coach Beth Burns who was dismissed in 2012. After the Burns era, the players wanted a more family-oriented coach to help bring them together, and Terry was just the person.
"The first time we all met her she had her family and her baby with her," senior forward Khristina Hunter said. "We just knew she was the right coach, we love that kind of environment."
That sort of appreciation doesn't stop with the players.
"First and foremost, she cares about people," assistant coach Jesse Clark said. "As a staff we know that's the most important thing on her mind. We always have a feeling of loving to come to the office, because it's a great place, with great energy."
That family-oriented approach made a transition between head coaches much smoother for players, most of whom were recruited by Burns.
"I told my student-athletes when I first met them that change is not always a bad thing, there are many ways to get things done," Terry said. "From day one I told them I would give them everything I got, and I expected the same from them."
Transition is also made easier when you share a court with one of the most recognized coaches in men's college basketball: Steve Fisher.
"He's an amazing man," Terry said. "We all know what he can do as a basketball coach, but he is such a caring and giving person. Coach Fisher has so much wisdom in what he does, we'll go and watch his practices and learn something new every day."
While Terry is constantly learning, she also wants to place her own stamp on this program. She has already done that through recruiting.
"(Recruiting) is one of her best assets, she has an ability to communicate and make people feel important," Clark said. "What you see is what you get, she carries the same persona everywhere she goes, and people really respect that."
Terry knows first-hand how long it's been since SDSU made an appearance in the NCAA Tournament.  As an assistant coach for Louisiana State University in 2011, she watched the Aztecs fall to LSU in the tournament.
"The funny thing is, I tell my kids all the time now, that if they would have made some free throws they would have beaten us," Terry said.
It's going to take more than free throws to get the team back there, but she knows what it takes to get a team to that height. She wants success not for herself, but for the players she loves so much.
"I know what it looks and feels like to make it to Sweet Sixteen games, and win those games, and I want them to experience that," Terry said. "That's what I promised them."
It would be tough to write a better intro to Terry's story, coming back to her hometown for her first NCAA head coaching job — now it's her job to write the ending.