Aztecs will be good, but we'd be wise to wait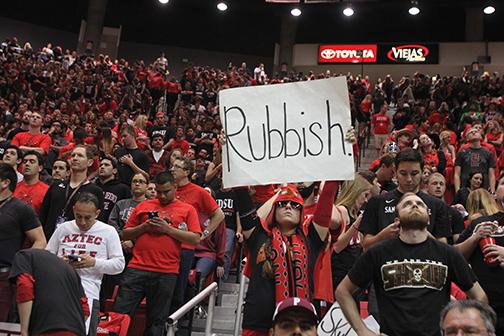 by Patrick Carr, Senior Staff Columnist
November 6, 2014
Let me clarify something before I start spewing sheer blasphemy to the Aztec faithful: I am not in any way saying this team is going to be awful, I'm just erring on the side of caution before I get my hopes up.
People are excited before of one of the most anticipated San Diego State men's basketball seasons in recent history. Hundreds of students lined up Monday morning for the first student tickets release of the season — and that was just for a game that won't even count toward the team's record.
SDSU has also been the subject of round-the-clock media coverage this year after announcing itself as a national powerhouse last year.
Some are predicting the Aztecs to breeze through the Mountain West Conference, sweep through the Mountain West Tournament and make the NCAA Elite Eight at the very least.
Basketball bedlam is back, bringing with it the inevitable salivating slew of praise. But here's why people need to hold onto their horses for a second:
SDSU hasn't even played a minute of meaningful basketball and people are already jumping out of their pants and on board the hype train with one-way tickets to the NCAA Final Four in Indianapolis.
There's a lot of optimism this year with three experienced returning starters, the best recruiting class in program history and the highest preseason Associated Press ranking in school history at No. 16.
How will anyone, except the coaches, know what this team can do until it plays its first game on Friday? Even then, it's an exhibition against NCAA Division II Point Loma Nazarene University.
Who will replace the productivity of departed leading scorer Xavier Thames? Junior forward Winston Shepard is a likely candidate as he was second leading scorer last year, but his team-high 80 turnovers and .412 shooting percentage are concerns that need to be remedied first.
Also, half of SDSU's highly touted recruiting class is injured. According to head coach Steve Fisher and other reports, freshman forward Zylan Cheatham is out until January after foot surgery.
At that same press conference, Fisher said that freshman forward Malik Pope is slowly being brought along with non-contact drills after breaking his leg twice in high school.
People aren't giving the Mountain West enough credit. Colorado State University has added a boatload of new players including transfers and freshmen. The Rams have depth and experience and bring back two dangerous players in redshirt seniors J.J. Avila and Daniel Bejarano.
University of Wyoming welcomes back preseason conference player of the year Larry Nance Jr., who tore his ACL last season. Remember what happened last year when the Aztecs went to Laramie, Wyoming? That was when SDSU's 20-game win streak was snapped.
Boise State University isn't a slouch either. The Broncos return three of their four highest scorers from last season: senior guards Anthony Drmic, Derrick Marks and junior guard Mikey Thompson.
The Aztecs also have a target on their back after last year's magical 31-5 season that included a regular-season Mountain West title. They crept under the radar because they were picked to finish fourth in the conference. This year they were almost unanimously picked to win the conference.
On Nov. 18, the Aztecs will host No. 25 University of Utah, which was picked to finish second in the Pacific-12 Conference.
That game could be when we find out how good this team is. Until then, it's best to wait.