Homecoming crowns new royalty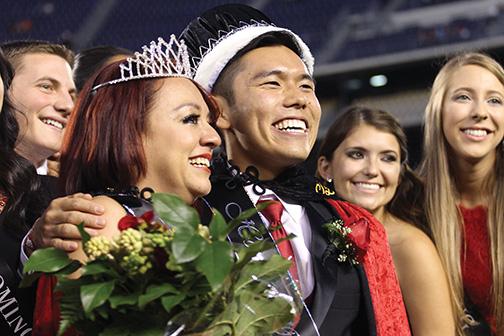 San Diego State's "Aztecs Ignite the Night" homecoming festivities came to an end Saturday, Nov. 8, at the football game against the Idaho Vandals at Qualcomm Stadium.
At halftime, the 14 members of this year's homecoming court walked the red carpet on the football field's sideline. Brandon Ishikata and Sara Roldan were crowned SDSU's 2014 homecoming king and queen. The 2013 king Jordan Harrison and 2013 queen Sonia Holzman were present to crown Ishikata and Roldan.
Before the crowning, the 14 members of the homecoming court said being part of the homecoming court was a great experience.
"This has been the best experience for me," 2014 nominee Onochie Ani said. "Being selected as one of the 14 top students to represent your school is extremely humbling."
After the king and queen crowning, Ishikata and Roldan rode a convertible around the entire football field.
Surrounded by friends and family after their ride, the couple felt overwhelmed with happiness.
"I did not expect to win," Roldan said. "All my classmates in the court are such amazing leaders and people that I was humbled to be with them."
Ishikata shared similar sentiments.
"I am overwhelmed with emotion, but it is all happiness because just to represent my ambassadors and also represent being an Aztec is just so prideful," he said.
Next semester Ishikata and Roldan will be working together to fund a community service event with the money endowed to them from the school to inform people about students with disabilities.
"I am going to do an 'abilities' fair to promote and teach about different people with disabilities and have a rally to teach everybody about how to be inclusive," Roldan said.
Ishikata, a dancer and member of the Student Ambassadors, said he would love to put on a service project for the arts.
The theme "Aztecs Ignite the Night" showcased the fire and passion igniting the spirit that comes with being an Aztec, Assistant Student Life Advisor Richard Eberheart said.
He said one of the most successful nights was the talent show on Tuesday because it showcased the talents of various clubs on campus, bringing many organizations and students together. This year teams sang, tap-danced, rapped and even made music with everyday supplies all contributing to the energetic atmosphere of homecoming, Eberheart said.