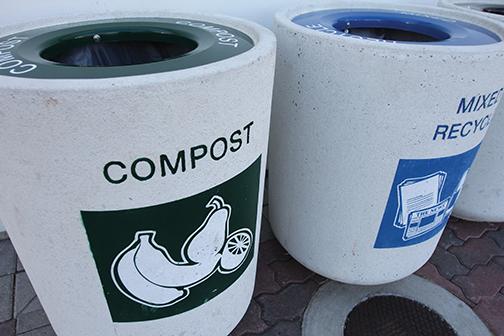 In an effort to make recycling easier on campus, the recycling department is pairing up trash and recycling bins around campus.
"It has been shown, proven and highly suggested by the county that all trash bins are matched up with recycling bins," nursing junior and Enviro-Business Society "E3" Vice President Faina Margulis said. "If someone's going to throw something away, they're going to throw it wherever comes first."
The department is also working to relabel all the cement bins to create consistency, including making sure all recycling bins are correctly labeled "mixed recycling."
Push for the changes came from students, Assistant Director and Material Management Manager David Del Rio said. To spread the word about better recycling methods, the department is working with several student groups, including Enviro-Business Society "E3" and Green Love.
"Within the next three weeks we're going to see huge changes in recycling and landfill bins," Del Rio said.
Plans began late October, with the library acting as a model for the rest of campus.
"In the library there's a million types of bins," Margulis said. "If it's not uniform, it confuses people."
At last count there were more than 17 different types of bins in the library alone, Margulis said.
Along with pairing recycling and trash bins together, the Enviro-Busienss Society also hopes to work on staff education.
"I've gotten a couple examples of video evidence of custodians putting bags from trash and recycling bins in the same receptacle," Margulis said. "It's not their fault at all because they're not educated on it and don't have the proper equipment."
The recycling department is also working with SDSU housing administration to create more suitability within the dorms.
"They're going to have a green certificate for your room if you're practicing green methods," Del Rio said. "It's a culture we have to start moving."
Another sustainability campus-wide initiative possibly beginning on campus is composting. The school currently composts all pre-consumer food waste in all school kitchens, including those in the Cuicacalli Dining Hall and East Commons. Pre-consumer food waste is waste generated during the manufacturing and production process before the items are sold or served.
According to the initiative's site, the school diverts about 240 tons of food waste a year. However, the school has yet to enact a campus-wide composting initiative.
Although a handful of composting bins can be spotted at Conrad Prebys Aztec Student Union, geology sophomore and Green Love member Faith Moore said the compost bins aren't managed and waste collected gets thrown in the trash.
The compost bins are used at times for sustainability events, however.
"At Green Lunch Bag events, all the stuff they give you is compostable," Margulis said. "(Associated Students Director of Facilities and Sustainability) Glen Brandenburg takes it home and personally composts it in his backyard."
Pre-consumer food waste from the kitchens within the union are still composted, he said.
"It's more challenging to begin composting," Del Rio said. "We first have to be successful (at) recycling."
Del Rio estimated plans to initiate composting on campus will begin before next summer.