Aztecs bruise title hopes with Boise loss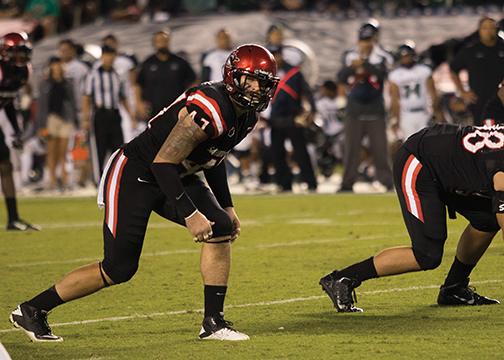 by Ryan Posner, Staff Writer
November 16, 2014
The San Diego State football team lost what may go down as its most disappointing game of the season on Saturday, when it was defeated by Boise State University 39-28, in Boise, Idaho.
In the coldest game in SDSU's program history since 1969 (9 degrees at game-time); the Aztecs opened up a 20-0 lead to begin the game thanks to strong defense and good place kicking by junior Donny Hageman. Senior quarterback Quinn Kaehler threw a touchdown pass and sophomore running back Donnel Pumphrey also scored a touchdown of his own on a 32-yard run.
However, the lead would slowly start to vanish in the second half.
SDSU went into halftime with a 20-10 lead, but Boise State controlled the momentum with back-to-back scores on a 24-yard field goal and 14-yard touchdown pass from senior quarterback Grant Hedrick.
Hageman opened up the second half with a field goal, before Broncos junior running back Jay Ajayi put on a clinic, scoring three consecutive rushing touchdowns to give Boise State a 31-23 lead early in the fourth quarter.
A defense which held the No. 16 scoring offense in the nation to just 10 points at halftime, and forced two interceptions, was out of gas.
"I thought (the Broncos) controlled the line of scrimmage the last couple drives, and they outplayed us in the last couple drives of the game by just pounding the ball, and we couldn't stop them," head coach Rocky Long said.
Ajayi's second touchdown was made possible thanks to a fake punt that resulted in a 24-yard rush from sophomore linebacker Christopher Santini to extend the drive.
"A play here or there changes the entire momentum of the game, if you were asking me I would say it was the fake punt," Long said postgame. "That changed the whole momentum of the game, got things rolling for them."
The third touchdown came after an interception from Kaehler, who finished the night 17-29, with 173 yards, a touchdown and an interception.
"I feel like we could've had 28 (in the first half), that was on me," Kaehler said postgame. "I was a little bit inaccurate, I have to watch the film to be sure, but I think I missed a couple guys."
SDSU showed some life though, after sophomore Donnel Pumphrey ran for a 34-yard touchdown, but were denied on their two-point conversion attempt. The score remained 31-29.
Pumphrey continued his phenomenal season, carrying the ball 24 times for 147 yards, and two touchdowns, while averaging 6.1 yards per carry.
His performance would not be enough though as the Broncos drove the nail in the coffin when Hedrick rushed for a 13-yard touchdown on the next drive.
Long made it clear earlier in the week that he didn't believe there was a "mystique" behind Boise State football, and his opinion did not change after the game.
"I'm really sorry were not going to play (Boise State) for the next couple of years, because I love playing them," Long said. "They supposedly have a mystique, they don't have a mystique, but congratulations to them, they won."
The loss now pushes the Aztecs to 5-5, (3-3 MW) as they spoiled a grand opportunity to take control of the West division. Now, they remain tied with Nevada and California State Univeristy, Fresno who both control the head-to-head tiebreaker over the Aztecs.
SDSU will take on the Air Force Academy Falcons (8-2, 4-2 MWC) at 6:30 p.m. on Friday at Qualcomm Stadium.