Men's soccer sent into offseason with loss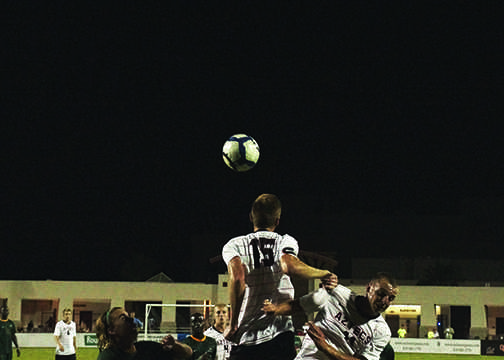 by Patrick Carr, Senior Staff Writer
November 20, 2014
Nine. That's how many times in 18 matches that San Diego State men's soccer had lost by just one goal this season going into Sunday's match at No. 6 University of California, Los Angeles.
And after NCAA Tournament-bound UCLA was finished, it was 10.
SDSU suffered a 2-1 defeat at the hands of the sixth-ranked Bruins, the sixth straight loss by the Aztecs who ended the year 7-12 (1-9 Pac-12) after a promising 5-1 start.
"We played a very good tactical game and we came up short again," head coach Lev Kirshner said.
The Aztecs nearly took the lead in an otherwise-dreary first half. Junior forward Rene Reyes found same space, but his shot clanged off the crossbar.
And then the No. 6 team did what No. 6 teams do.
Bruins senior midfielder Leo Stolz scored in the 31st minute with a shot that Kirshner says redshirt freshman goalkeeper Adam Allmaras would normally handle.
SDSU tried clawing back, but was unable to and the defensive breakdowns that've characterized the 2014 campaign made one final appearance.
UCLA freshman forward Abu Danladi took advantage of some miscommunication by the Aztecs' back line and raced out to a one on one against Allmaras before easily slipping by the keeper and tapping in for a 2-0 Bruins lead.
It looked like SDSU would be shut out for the eighth time this year, but redshirt senior midfielder Pablo Vasquez marked his last appearance in an Aztec uniform with his first goal, a free kick that beat UCLA's second-string keeper.
The Aztecs managed seven shots with three of them on target and the Bruins had nine with four on target.
Kirshner is already looking to next year.
"It's a matter of getting these guys playing together," he said. "We'll move forward and take this as a learning experience."