Aztecs looking to ground the Air Force attack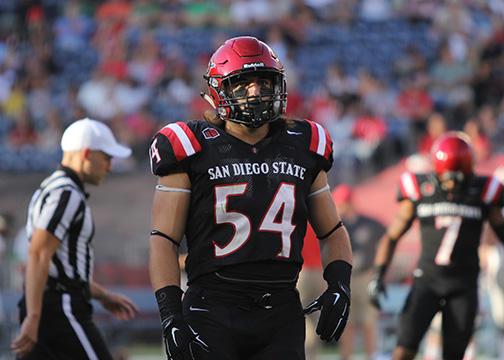 by Ryan Posner, Staff Writer
November 20, 2014
Coming off one of its most disappointing losses this season against Boise State University, the San Diego State football team had to mull on its crushing loss until they arrived in San Diego at 4 a.m. the next morning.
Now the Aztecs are saddled with playing with one of the hottest teams in the Mountain West and the No. 8 rushing attack in the nation: the Air Force Academy (8-2, 4-2 MW). The Aztecs will have to gear up and play on a short week as they kickoff this Friday at Qualcomm Stadium.
Don't expect head coach Rocky Long to complain about the Aztecs unfortunate scheduling though.
"It better not have any effect, otherwise things won't go right," Long said. "I don't believe in any excuses."
Long is not particularly ecstatic though about playing on Friday night for the third time this year.
"I think Friday night is for high school football. I don't like the idea of playing on Tuesday, Wednesday or Thursday either," Long said.
SDSU squandered a golden opportunity to put themselves in the driver's seat of the MW's West division after its loss on Saturday — a game in which they led by 20-0 at one point. Following the game they were delivered with the unfortunate news that junior linebacker Jake Fely dislocated his wrist and will be forced to miss the rest of the season.
Fely missed most of last season due to a neck injury, and had only played three games this season before suffering the injury.
"It's frustrating, but I can't even believe how frustrating it is for him," sophomore linebacker Calvin Munson said at the weekly press conference on Monday. "He's an awesome player and leader. I know how hard he works and knowing his work ethic, I know he'll bounce back just as he has before."
Fely's loss will likely have an effect on the Aztecs going against Air Force.
SDSU
Strength: Defense against spread offenses
The Aztecs enter Friday's matchup No. 32 in the country in total defense. They have been particularly effective against spread offenses this season, the type of offense Air Force possesses.
One of the reasons SDSU has had so much success against spread offenses is thanks to its exotic 3-3-5 defensive scheme set up by Long.
"From my standpoint, I like (the 3-3-5)," senior cornerback J.J. Whittaker said. "We zone up a lot. They ask us to play a lot of man coverage so Calvin (Munson) and (Josh) Gavert can blitz. We're throwing blitzes from the Warriors to the Aztecs to the corners. The different things we're allowed to do in this defense is what we like the most."
Weakness: Red-zone offense
It's tough to find a flaw when you jump out to a 20-0 lead like the Aztecs did last Saturday, but the team was not able to capitalize on good field position following turnovers, settling for field goals rather than touchdowns.
In fact, the SDSU offense ranks No. 98 in the country in red-zone offense, and score on just 77 percent of its red-zone opportunities.
The Aztecs will need to figure out a way to utilize senior wide receiver Ezell Ruffin, or their tight ends, to help convert on more red-zone chances.
Air Force
Strength: Rushing Offense
Plain and simple, Air Force can run the ball. And they do it out of the unique triple option formation.
Air Force rushes for 288.8 yards-per-game — good for No. 7 in the country — and also average 33 points per game.
"They pound the ball, we have to start off strong, we can't give them any confidence," Munson said. "We're going to have to make them switch up their game plan instead of us trying to switch up ours."
Weakness: Playing at Qualcomm Stadium
It's tough to find a weakness in this Air Force team. They run the ball well. Senior quarterback Kale Pearson has a 13:2 touchdown-to-interception ratio and its defense is middle of the pack.
One of the only things working against them on Friday will be the fact they play the Aztecs at home where they have gone 4-0 this season.
Whether it's the great weather, less travel, or playing in front of the SDSU faithful, the Aztecs find a way to get it done at home.
Be sure to read about the Aztecs' loss at Boise here.