Chef wins second at World Food Championship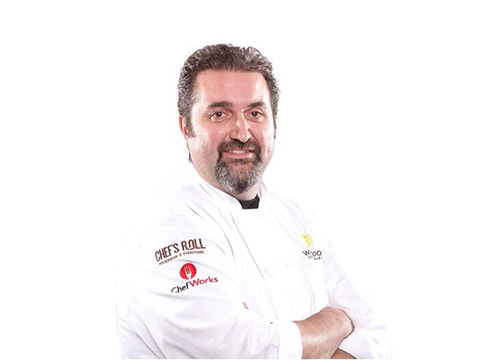 by Kellie Ferguson, Staff Writer
December 12, 2014
Hang on for a minute...we're trying to find some more stories you might like.
Though many San Diego State students eat on campus every day, they may not be aware that the restaurants they are eating at are overseen by an award-winning chef. Aztec Shops Executive Chef Ed Glebus supervises and manages almost all of the food students consume through campus restaurants and shops.
"I oversee all the food on campus through Aztec Shops. So, everything from pizza at Vinnie's, to producing awesome pastries and breads down at the bake shop, to the catering kitchen, which puts out anything for 4,000 people down to a VIP dinner with the president of the school," said Glebus.
Glebus has competed in multiple competitions, such one put on by the National Association of College and University Food Services (NACUFS) in which he won the silver medal. In his most recent competition this past November, Glebus placed second in his category at the 2014 World Food Championships in Las Vegas. He competed against hundreds of other chefs from around the world in the Pasta category.
"They had about 50 different kitchens set up for competitors to cook at," said Glebus. "We were one of the seven different categories that were competing. There were about 300 different competitors there."
During the competition, Glebus had two chances to earn points and try and get into the top 10 to move on.
The first dish he made was lobster pappardelle which won him silver in the NACUFS competition. The points he earned put him in 15th place. Next, Glebus moved on to create his own, better version of a meal popular in dorm rooms across the country.
"The second dish that I did was my version of macaroni and cheese. I roasted bone marrow, took the fat that rendered from that and I made the cheese sauce. I cooled that down, put it on top of the bone marrow, put some breadcrumbs on top and baked it," said Glebus.
After submitting this dish, the judges built anticipation by prolonging the announcement of the chefs who got to move on. Though Glebus was unsure of his chances of moving into the top 10, he advanced to the final round and made the dish that ultimately won him second place.
In the final round for the pasta category, Glebus made the dish that ultimately won him second place.
"I made a cappelletti with a crab broth, braised greens and a parmesan and pancetta crisp," he said.
Besides winning awards and medals in competitions, Glebus described becoming certified as an executive chef as a major achievement in his career.
"My biggest career accomplishment would be being certified as an executive chef, and then being able to certify chefs. So not only did I get certified, but I went through the process of being able to certify chefs through the culinary federation."
Though Glebus is not new to the culinary arts, he is fairly new to SDSU. He began his job as executive chef in January. Glebus' innate ability to create new and delicious dishes has led him to become an important part of daily life at SDSU. He represents how doing what you love can result in creative new ideas and overall success. For Glebus, this passion is in the culinary arts.
"I've always loved it. The pace, the heat, the pressure, the stress—I thrive off of that. From my very first job until now, I have always been in food. That's been my life," he said.