Tasty Tuesday: Stack up the flavor at Stacked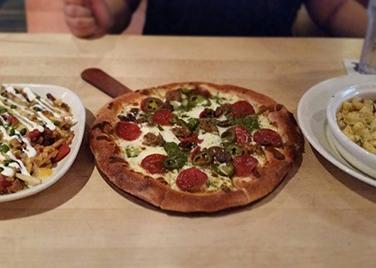 Stacked isn't an average build-your-own burger joint. This 21st century establishment allows guests to artfully craft their own burger, pizza, mac n' cheese, salad and even dessert. When walking into this neat restaurant, the jaunty atmosphere is easily noticed. The rustic interior and tech savviness gives Stacked the ambience of a gastro pub.
What makes Stacked more notable when compared to other restaurants is it's iPad-ordering system. Guests are able to interact with their food by experimenting with various toppings selected off of a digital menu. Stacked gives new meaning to the phrase "playing with your food." For the non-adventurous few, Stacked provides standard pre-made menu options. Guests can even place their order and pay for their meal online, so the hassle of depending on a waiter is non-existent.
I decided to order a burger, but not a typical burger. I ordered a blackened salmon patty with lettuce, applewood smoked bacon, cheddar cheese, teriyaki pineapple sauce and topped with a brioche bun. I was a bit apprehensive about ordering a salmon burger, but with the finished project I created, Stacked did not disappoint. The combination of various ingredients, no matter what they may be, seem to always taste compatible, not to mention savory.
Other items on the menu are equally as delicious as my fishy masterpiece. The mac n' cheese, ordered with whichever toppings customers may choose, is creamy and cheesy goodness. For sugar lovers, the mudslide shake, topped with a heavy amount of whip cream, is chocolate paradise.
Stacked's prices are surprisingly reasonable for the amount of craft, technology, and quality that goes into the meals. Burgers start at around $9 and increase depending on ingredients. Located at Fashion Valley, Stacked is conveniently close for San Diego State students.
Because of the handy iPad ordering system, the biggest problem with Stacked is ordering too much food. With the simple swipe of a finger, a freshly baked pizza or a sweet ice cream sandwich will be sent to a table in minutes. The friendly staff, innovative aroma and exquisite menu of Stacked is guaranteed to satisfy customers.