San Diego gets a 'D' for tobacco use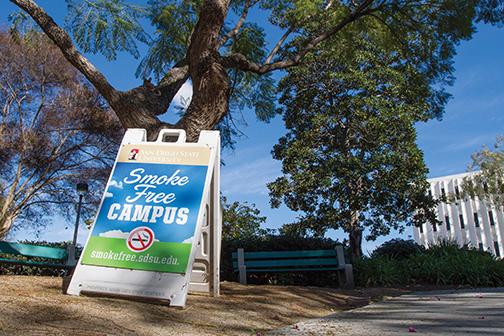 by Jaclyn Palumbo, Staff Writer
January 29, 2015
San Diego State has recently partnered with Elite security to better enforce the smoking ban on campus.
In cases of noncompliance with the smoke-free policy, guards will contact smokers on campus and provide information on the policy and resources listed on the campus website, SDSU Police Department Corporal and Community Resource Officer Mark Peterson said.
Violators of the policy are only informed, not arrested or cited.
"A few tickets would probably make a big difference," professor of epidemiology and biostatistics Thomas Novotny said. "It is the responsibility of the university to make sure their message is clear and that our students aren't being exposed to what they don't want to be exposed to."
"D" for tobacco control
More than a year after smoking was banned at SDSU, the American Lung Association released its 2015 State of Tobacco Control report, giving San Diego a D grade and California an F. The report was released on Jan. 21.
In last year's report San Diego also received a D grade, according to the ALA.
The percentage of SDSU's student body who smokes is about 10 percent, slightly lower than the percentage of the general population in San Diego, Novotny said.
"With young people the negative effects include increased respiratory illness, more sick days, economic cost, changes to skin and complexion, teeth staining and bad smell," he said.
California received F grades in the categories tobacco prevention and tobacco taxes, a D grade in access to cessation services and a B grade in smoke-free air, according to the ALA.
Tobacco taxing is the area in which Novotny thinks California can most improve. The higher price of tobacco products facilitates quitting, Novotny said. A portion of tobacco taxes fund tobacco control programs.
Smoke-free air could be further improved by regulating smoking in parking lots outside of public places and in multifamily homes, Novotny said.
"We now need to urge communities to pay attention to outdoors where nonsmokers are exposed and our environment is affected," he said.
In addition to firsthand and secondhand smoke risks, there are studies exploring third-hand smoke risks. These risks are elevated when the residual smoke left around turns into different toxic chemicals.
"Now we know that nicotine and nicotine metabolites and other 'aging' compounds are found in almost all spaces where smoking takes place," professor of health promotion and behavioral science Melbourne Hovell said. "Particles from smoke and gases from 'off-gassing' when contaminants readmit into the air are clear sources of exposure even if no one is smoking at the time."
With many public spaces at SDSU, some spaces in which smoking once occurred, third-hand smoke poses risks.
"This means that rooms or homes can become sinks or banks for (third-hand smoke) contaminants and sources of exposure to people who visit the room or home or live there," Novotny said.
As for the nation, the ALA has a 10-year plan that will be optimized by 2024. The plan includes FDA and CDC interventions, targeted advertising, increased tobacco tax and widespread smoke free laws, according to the State of Tobacco Control website. The ultimate goal is to have smoking levels drop to lower than 10 percent of the population by 2024.
On campus this Earth Day, Novotny and volunteers from the Graduate School of Public Health will participate in their annual cigarette butt cleanup. Despite last year's campus-wide smoking ban, the volunteers still picked up about 20,000 cigarette butts each hour, Novotny said.
The SDSU smoking ban went into effect Jan. 1, 2014, and includes smokeless tobacco and e-cigarettes.