Men's golf ready to hit the links in Lakeside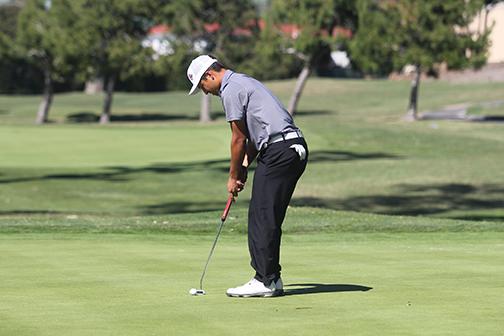 by Cameron Salce, Production Designer
February 9, 2015
Hang on for a minute...we're trying to find some more stories you might like.
Confidence is a key attribute to have in any aspect of life. In golf, when the game is more than primarily mental, confidence can make or break your game. If you step up to the tee envisioning yourself hitting a good golf shot, you have a better chance of doing so. But if you step up to the tee thinking about that chip you messed up on the last hole you're most likely going to screw up.
If the Aztec men's golf team is as confident as its assistant coach Evan Emerick is, it will have the right mental outlook for its upcoming tournament.
"Expectations are always high here at San Diego State," Emerick said last week, "We expect to compete in every tournament we play in and be in position the last day to win."
If the Aztecs take this attitude into their tournament at Barona Creek Golf Club in Lakeside this Monday, they should be in the hunt to win.
The field coming in to play on Feb. 9-10 is wide open. Headlined by SDSU, the Aztecs will play host to Bowling Green State University, Illinois State University, University of the Pacific, California State University, Sacramento, University of San Diego, University of San Francisco, Seattle University, South Dakota State University, University of California, Irvine, University of California, Riverside, University of California, Santa Barbra and University of Texas at Arlington.
The tournament will consist of 54 holes of play — 36 holes will be played on Monday and the final 18 holes will be played on Tuesday.
In the past, the Barona Collegiate Cup has featured historically great golf programs such as University of Southern California, University of Illinois, Georgia Tech Institute of Technology, and Texas Christian University. When the Aztecs hosted the tournament in 2012 all those schools competed and SDSU came out victorious. It's a victory senior James Holley won't soon forget.
"The last time we held this tournament was three years ago and we beat a good field including USC and TCU," Holley said of his sophomore season.
One player that figures to play a major factor in leading the Aztecs to the peak of collegiate golf this week is senior Xander Schauffele. He has been the Aztec's best player in fall play and played a major role becoming the leader on last year's team.
But Emerick isn't just relying on his upperclassmen to help carry the load this year — he's got his sights set on some of the incoming freshman, too.
"Freshman P.J. Samiere I expect to play a big role for us this semester," Emerick said of the Hawaii native. "He played every tournament in the fall and contributed a lot to the team."
The Aztecs will have their work cut out for them if they seek to mirror their victorious ways from 2012. Both days are scheduled to start at 7:30 a.m.