SDSU holds sexual assault briefing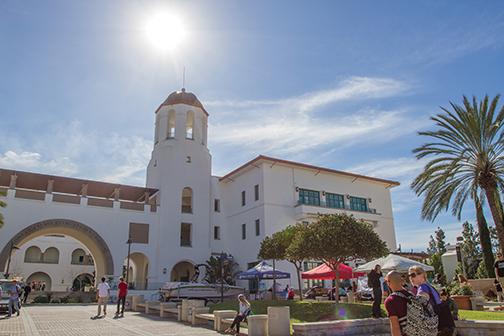 San Diego State's Sexual Violence Task Force held its first sexual assault briefing of the semester on Feb. 5 at the Conrad Prebys Aztec Student Union's Templo Mayor Suite.
The bi-monthly briefings will occur throughout the semester and aim to inform students about prevention programs and response protocols in addition to addressing community and campus concerns.
During the briefing, SDSU's Title IX Coordinator and Associate Vice President of Administration Jessica Rentto emphasized the importance of coming forward after an incident because the campus will be able to maintain record of the situation and keep an eye on the perpetrator, making campus safer. If students choose not to, she encourages them to get educated on the various ways to handle a sexual assault by calling the SDSU Police Department or the Title IX office.
SDSU Police Captain and spokesman Josh Mays provided context and clarification for some of the information sent out during the year via the media bulletins.
"In a media alert, when it says 'sexual assault' that means that the victim or survivor contacted us and we are unfolding the investigation," Mays said. "The unfolded investigation and sexual assault bulletin means that the victim or survivor is working with police and are assisting us in the investigation."
A mandatory report post is associated with sexual assault but the difference is that the victim or survivor has reported it to a mandatory reporter but do not want a police investigation. A mandatory reporter could be a doctor, nurse or school official.
In the meeting, Rentto also discussed the $200,000 grant SDSU received from the California Governor's Office of Emergency Services to fund sexual assault programs on campus. The grant will provide a full-time sexual assault victim advocate on campus that will be available for any student that has been sexually assaulted and can provide emotional support and be a resource for the student. Additionally, the funding will pay for a part-time police officer that will be supporting all of the prevention efforts on campus and be extensively trained on how to handle sexual assault cases on campus.
Associate Vice President of Campus Life Christy Samarkos talked about the new women's resource center that will be located on Campanile Drive and Lindo Paseo.
"The focus of this center is on education, on resources, advocacy, and on being a safe, vibrant space where students and staff can come together and have a safe place were issues can be addressed and talked about," Samarkos said.
Some students said after the briefing they felt more comfortable with the topic of sexual assault and how it's handled.
"I found it very comforting that the school has such interest in these circumstances and that it is the priority to comfort the victim," communication sophomore and Alpha Chi Omega member Marissa Heckman said.
Alpha Chi Omega member Joleyne Lambert said she felt the briefing helped people to feel more confident and comfortable about talking to the police or telling someone about a sexual assault they experienced.