Malaysian Student Brings New Perspective to SDSU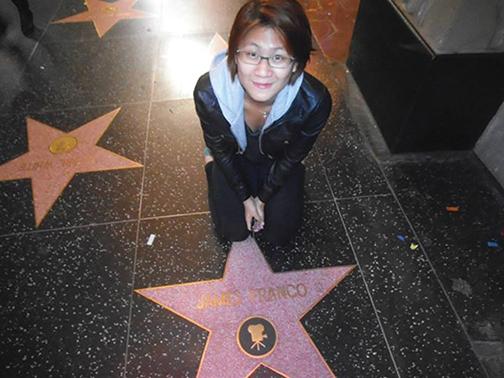 With the prime location, supreme weather, and melting pot of cultures, it's not surprising many international students attend San Diego State.
English and journalism senior Denise Chang arrived at SDSU in the fall of 2013 as a degree-seeking, transfer student. Before arriving at SDSU, Denise was involved with the American Degree Program at Malaysia's Taylors University.
Similar to the diversity seen in the U.S., Malaysia, which is located in Southeast Asia between the countries of Thailand and Singapore, is populated with various races, such as the native Malay race, Chinese and Indian.
Chang said because of the various races in her native tropical island, it's normal to speak multiple languages. In total, Chang can speak four different languages. However, it's not uncommon for Malaysians to speak up to seven different languages.
"Malaysia is a very accepting culture and is the epitome of diversity," Chang said.
The differences in Malaysia and the U.S. are vast, but there are also similarities.
"America is a more individualistic country whereas Asian countries are more collective," Chang said. "It's not necessarily a bad thing, it's just different,"
She said Americans are a lot friendlier.
"Here, you can go up to a stranger and start a conversation without others thinking you're weird," Chang stated. "In Malaysia, others might find that strange."
However, Chang said the bonds Malaysian people have are unbreakable. With English, music and Hollywood films, American culture is influential in Malaysia. Unfortunately stereotypes about American food have reached Malaysia, and Chang associates the McDonalds in Malaysia to the "fast­ food fanatic" status of American society.
When it came down to choosing an American university, Chang knew she wanted to live in California. She thrives on the diversity in California and admits to being exposed to a lot more by living in San Diego.
"I love talking to people and finding out where they're from," Chang said.
Chang currently works at the International Student Center on campus. She takes great pride in welcoming the new international students, and she loves giving them personal tours. She said the community of SDSU is very accepting and intrigued by international students.
"People are so curious and always want to know more about my family, my people, and my culture," Chang said. "I love talking about my heritage and am glad to share with others why I am a proud Malaysian."
With the 16-hour time difference, and the grueling 20-hour flight, Chang is a long way from home. She does occasionally become homesick, especially around the time of the Chinese New Year.
Recently Malaysia has gotten vast media attention around the world.
On March 8, 2014, Malaysian Airlines Flight MH370 departed from Luala Lumpur International Airport and lost contact an hour after takeoff. To this day, the plane has not been found.
"It put Malaysia on the map, but for the wrong reasons," Chang said.
Chang has an interesting perspective on the plane disappearance. Chang's mother was a former air hostess for Malaysia Airlines who knew some individuals on the plane. Her family was affected by the mysterious tragedy, and the developing country is still trying to make sense of the incident.
Studying abroad has left Chang with many challenges to overcome. Last year, Chang's mother passed away. Her passing was one of the toughest times for Chang because she wasn't there in Malaysia.
"It was definitely a test, but it made me a lot stronger," Chang said. "I'm glad I went through this hardship because it has made me realize how strong I can be."
Chang is a strong believer in the power of travel. She believes that people need to escape their familiar surroundings and explore the world outside of their comfort zone.
"I definitely encourage everyone to study abroad just to experience a culture that's different than your own," Chang said. "It's cliché, but I really had to leave my country to find myself."
The traveling doesn't stop in San Diego for Chang. While in the U.S., she has traveled to Los Angeles, San Francisco, Portland and Seattle. She hopes to someday visit Chicago and New York.
"Traveling has opened my eyes to a lot of things and has changed my perspective," she said.
Chang eventually wants to go into the digital media field. Social media, online publishing and web content are an industry that hasn't grown in Malaysia, but she hopes to take the skills and knowledge she has learned here back to Malaysia to help benefit her home.