Club creates international bonds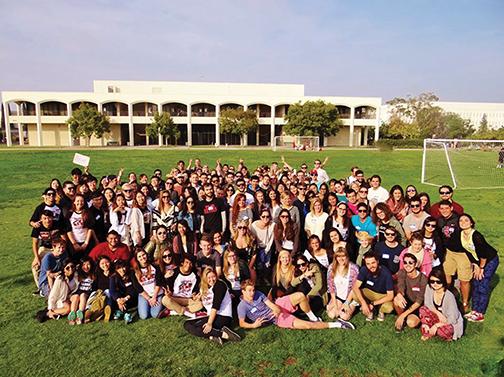 Global Aztec Alliance is a unique student organization that helps international Aztecs feel more at home here at San Diego State. Members are able to practice new languages, share their experiences from abroad and create lasting friendships.
"My favorite part of GAA is being able to meet a wide array of incredible individuals from across the world and getting the chance to share my study abroad experience with other SDSU students," psychology senior and Global Aztec Alliance President Savannah Benefield said. "I love sharing our travel stories and learning about different cultures. These experiences have deeply enriched my life, and not that I needed another reason to travel the world, I have an ever-growing list of friends to visit."
Creating a Culture
Benefield started Global Aztec Alliance in March 2014 after spending a year studying abroad in many different countries such as Spain and Australia. She missed hearing friends' stories of staying in hostels and traveling on a budget.
This nostalgia helped inspire Benefield to create a student organization for study abroad applicants, returnees and international students who are studying at SDSU.
"GAA provides students with the opportunity to meet new and unique individuals from across the globe, creating a truly intercultural community for local students and international students," Benefield said. "We're enabling students to increase their knowledge and understanding of other cultural perspectives, breaking down barriers one member at a time."
There are currently 65 Global Aztec Alliance members, one-third of whom have studied abroad already.
Members can also gain leadership experience by joining one of the four committees.
Those interested in mentorship can sign up for a buddy, where they will be paired with incoming international exchange students.
Global Aztec Alliance adviser Veronica Perondi was the chair of a similar organization at San Francisco State University.
"I'm so happy something was created here with the same purpose," Perondi said. "Global Aztec Alliance has done a great job integrating study abroad students and international exchange students. If GAA influences any student to study abroad, I consider that a complete success."
Becoming a Family
After joining Global Aztec Alliance, members are placed into "families" with other students from different parts of the world in order to get them out of their comfort zones. There are frequent off-campus bonding experiences, such as hikes up Cowles Mountain, mixers for incoming international students and bowling nights.
"Students who join GAA will have the opportunity to learn about a multitude of different cultures, work collaboratively with others on an international level, build personal and professional connections across the world and gain valuable leadership experiences," Benefield said.
Students interested in joining Global Aztec Alliance can learn more by attending a weekly meeting. GAA meets at 7:30 p.m. on Monday nights in Park Boulevard in the Conrad Prebys Aztec Student Union. The membership fee of $10 per semester is used to provide snacks and transportation to activities.