GreenFest springs into the season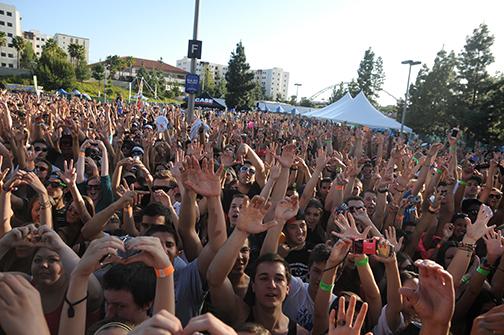 by Nick Knott, Entertainment Editor
February 23, 2015
Spring swinging back into season means a couple different thing for Aztecs; the "harsh" weather of San Diego's winter is over, the semester is almost halfway over and San Diego State's annual Greenfest is right around the corner.
Greenfest, put on by Associated Students and the Enviro-Business Society, is a three-day festival showcasing different social and educational events in the realm of sustainability. Greenfest has brought awareness to the issues of the environment and how Aztecs can help save it since its inception in 2009. In addition to educational booths and fun and games, Greenfest caps off its annual presentation with a carnival and concert; which has featured big names such as T-Pain and Macklemore in the past.
This year is not much different. Greenfest 2015 spans March 1 – March 5 and is capped off by another big and up-and-coming musical talent. The five days are filled with fun for Aztecs who are in need of a break or have time to kill between classes. Each day has its own set events, and are sure to peak any Aztec's interest.
Sunday March. 1
Make a Splash with Greenfest
1 p.m. @ SDSU Aquaplex
There's no better way to bring in the Spring than hitting the pool with. With the obvious focus on how to help conserve water, this event will help educate Aztecs on how they can help live sustainably by conserving water. The day's events will include boat races and a giant pool party. This is a great way for Aztecs to get their feet wet in Greenfest for the first time.
Monday March 2
Bike Brunch
10 a.m. @ Campanile Walkway
Ditch the whip and bike, walk, scooter or jog to school in honor of helping the environment. Bike Brunch gears to help educate Aztecs about more active ways to commute rather than using a car. In addition to the enriching education, there will be free local and organic brunch themed foods for Aztecs to enjoy.
Tuesday March 3
Aztec Chef Competition
12 p.m. @ Lee and Frank Goldberg Courtyard
This cut-throat cooking competition will highlight some of SDSU's best student chefs. It will also help event-goers sharpen their skills in the kitchen both in technique and healthy food selection. Aztecs can sample the culinary creations of the competition and will eventually see who is crowned cooking champ of Greenfest this year. 23
Tuesday March 3
Enviro-Fashion Show
7 p.m. @ Montezuma Hall
With New York Fashion week coming to a close, it's only fitting that Greenfest picks up the theme of style during its week of events. However, the difference here is that all the garments are created from recycled material. The show will also feature creative music videos made by students. Now you probably won't see Anna Wintour at this fashion show, but it's still definitely worth checking out for the stylistic creativity.
Wednesday March 4
Green Bag Lunch Series
12 p.m. @ Montezuma Hall
You don't have to bring your lunch in a green bag to attend this open-forum discussion event, in fact you don't even need to bring your own lunch; food will be provided from Oggi's. "Renegade gardener" Ron Finley is the luncheon's special guest and will lead attendees through a conversation on the continuing theme of sustainability and how Aztecs can take it upon themselves to help make sustainable changes in the world.
Thursday March 5
Greenfest Concert
7 p.m. @ Cal Coast Credit Union Theatre 
Chicago rapper Chance the Rapper will headline this year's concert and thus bring a close to Greenfest. Chance made the XXL Freshman Top 10 list last year and has shown promise as an up-and-coming rapper. Although from Chicago, Chance the Rapper's style isn't the same as Chief Keef and Lil Durk, other rappers from the Windy City. His style is much more fun and happy-go-lucky. In addition to Chance, student musicians will preform and battle to please the crowd. This concert is the best way to cap off Greenfest.