Baseball loses UNM series, dominates 49ers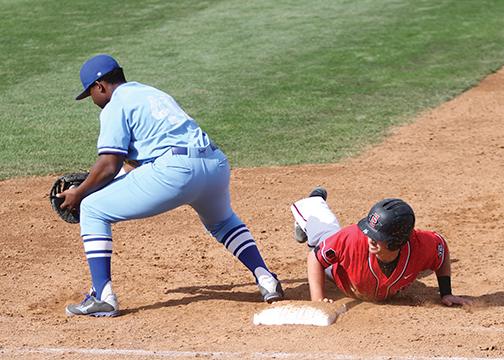 The San Diego State Aztecs (14-3, 4-2 Mountain West), lost their first series this season going 1-2 against MW-rival University of New Mexico (9-3, 4-2 MW).
SDSU entered a hostile New Mexico environment, one of the toughest places to play in the conference.
"It was a hard fought series," head coach Mark Martinez said, "They're a good program, and it's a difficult place to play. They definitely have a home field advantage, and it's a grinder every time you go out there and play."
The Aztecs also traveled without senior infielder Ryan Muno, who suffered a slight concussion during practice this week.
Junior pitcher Bubba Derby opened the series on Friday with a solid performance giving up three runs on six hits through 5.2 innings. However, a struggling offense led to the Aztecs losing the series opener, as the Lobos pitching held them to two runs on a mere six hits.
"Friday we didn't hit as well as we should have," Martinez said. "But we were in the game, and it kind of got away from us."
Sophomore pitcher Cody Thompson took the hill for Saturday's game which, according to Martinez, was an "adventure."
The Aztecs dropped their second loss of the series in a 10-inning marathon. Up 5-4 in the bottom of the eighth , SDSU relinquished six runs as the Lobos took a 10-5 lead heading into the ninth.
In the top of the ninth , the Aztecs scratched back to tie the game. Senior outfielder Steven Pallares, who leads the MW in batting average, picked up two RBIs on a single to bring the game to 10-7. With two on and two outs, junior outfielder Seby Zavala launched his third home run of the season to tie the game back up at 10.
After two scoreless frames, Lobos freshman utility player Hayden Schilling blooped a single into left field to win the game for New Mexico, handing the Aztecs back-to-back losses for the first time all season.
Despite the loss, Martinez praised his boys for their resilience.
"It was a really good hard fought game," Martinez said. "To find a way to tie it and be in position to win that game, is hard fought."
Martinez also spoke on the positioning and pitching challenges both teams faced throughout the later innings.
"It became a 'National League' game," he said. "Both teams used position players as pitchers, so we lost the DH and had to mix and match. At one time we had to bring an outfielder in to field five infielders."
Junior pitcher Mark Seyler was able to get the Aztecs back in the win column on Sunday with a 10-8 victory. Freshman outfielder Chase Calabuig picked up his first career home run, as the offense was able to find a spark, picking up 13 hits.
"Sunday we came out and swung the bats really well," Martinez said. "We left some guys on base, probably could've scored more than 10, but we played a great game yesterday."
In the same game, Aztecs' sophomore closer CJ Saylor picked up his seventh save of the season. Saylor is tied for the lead in national saves so far this year.
Although the series was lost, Martinez holds great confidence in his team's ability to bounce back.
"Tough series? Yes. But at the same time we're 13-3 and 4-2 in conference," he said. "We're in great position, and we've got to continue doing what we're doing.
The series loss dropped the Aztecs to a tie with New Mexico for second place in the conference, behind a 5-1 Nevada club.
The Aztecs made a quick trip out to California State University, Long Beach before coming home to Tony Gwynn Stadium. Sophomore pitcher Marcus Reyes took the mound for seven full innings, giving up one run as his squad put 16 runs on the board.
Up next for the Aztecs is a three-game homestand against Texas Tech University this weekend. Friday's first pitch is set for 6 p.m. at Tony Gwynn Stadium.