Tasty Tuesday: The hidden gem of the College Area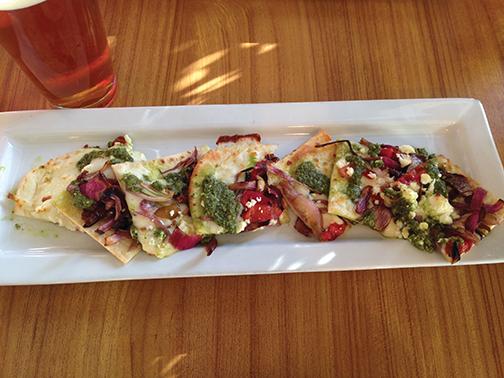 by Kalah Siegel, Staff Writer
March 24, 2015
Don't get me wrong — the restaurants at San Diego State are tasty in their own right, but sometimes it's refreshing to get off campus and indulge in a unique dining experience.
Typically when students envision this adventure, they automatically assume a 15-minute drive on Interstate 8 is involved, in order to find an adequate eatery. Think again, because there's a hidden gem in SDSU's backyard that's surprisingly under-the-radar for how phenomenal it is — and you can avoid getting on I-8 altogether.
K'nB Wine Cellars is directly next to Windmill Farms on Del Cerro Blvd. This restaurant is truly the total package, and it's less than two miles away.
As San Diegans, we set the bar extremely high for Mexican food, and although K'nB is not a Mexican restaurant, they do street tacos better than any taqueria in town. Mix and match carnitas, chicken, potato, black beans, chorizo and shrimp tacos, all served with three flavors of local hot sauce on the side that add an extra kick to an already stellar taco. If tacos aren't your thing, the menu offers a variety of equally delicious appetizers and entrees that will satisfy your hunger. Try one of the six flatbread pizzas or the Irish nachos. All are scrumptious and discounted during happy hour.
While the food alone is reason enough to try this place out, it's the alcohol selection that will make the jaws of 21 plus patrons drop. The retail section of K'nB is a floor to ceiling spectacle of wine, beer and spirits. There are hundreds of adult beverages available for purchase and, thankfully, knowledgeable employees are there to guide you through the staggering amount of options.
In the restaurant portion, K'nB is celebrating March Madness with its very own "March IPA Madness" event. This month-long occasion features 27 India Pale Ales on tap and plenty of basketball on the big-screen TVs both indoors and out. Additionally, all the classic beers like Budweiser, Coors and Corona are on the menu, as well as an amazing selection of wine and craft spirits.
Typically, if the food is good and the staff is nice, ambiance is of secondary importance. However, the atmosphere at K'nB is impossible to ignore. The environment is a combination of comfort that you would find at your neighborhood bar, mixed with an exclusive vibe that makes you feel like you're suddenly in the know about fancy alcohol and food.
This place is the total package, and K'nB's happy hour makes it affordable on a college budget. Happy hour is Monday, Tuesday, Thursday and Friday from 3 p.m. to 6 p.m., featuring $1 off draft beer and wine, as well as significantly discounted menu items — including the must-try street tacos.
In addition to happy hour, the daily specials offer even more affordable options. On Mondays, all wines are half off by the glass. Tuesdays feature no caps on all beers from the store — yes, from that staggering selection we mentioned earlier. Wednesday is $3 draft beer night — read that again, let it sink: $3 beers (Expect a wait on Wednesdays; K'nB is packed with people taking advantage of this great deal every week). On Thursday, enjoy no corkage on all wines from the vast store selection.
K'nB is the perfect neighborhood hangout for great food and drinks with friends. Check it out yourself, and don't forget to order some of those tacos.