Aztecs draw with Tijuana's Xolos in friendly match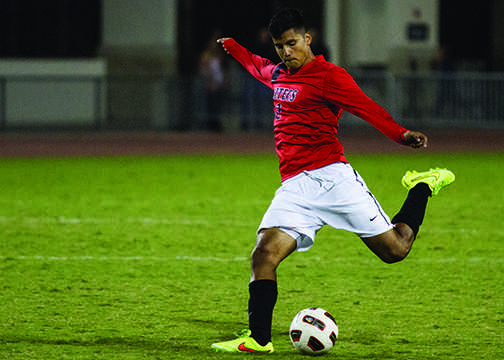 by Patrick Carr, Senior Staff Writer
March 30, 2015
Hang on for a minute...we're trying to find some more stories you might like.
It was one of the largest crowds for a soccer game in school history and it wasn't even close to a home game for San Diego State men's soccer.
That's because the overwhelming majority of the 1,572 announced fans who crowded the SDSU Sports Deck Sunday night supported professional soccer team Club Tijuana Xoloitcuintles de Caliente, from Mexico.
The Aztecs clawed back from a 1-0 second-half deficit to tie 1-1 against Tijuana's under-19 squad in a friendly match that drew a packed house, including the boisterous Xolos' supporters section, "La Masakr3." To some people there, the soccer game was lost to the spectacle of the crowd.
"The atmosphere was phenomenal, it really gave us a road game to be honest with you and we thought this would be somewhat of a home match," SDSU head coach Lev Kirshner said. "This is what we were hoping for and it was exactly what we got."
And after the mainly Xolos crowd belted the Mexican national anthem, things got going for SDSU, sort of.
"We started off pretty bad, but after 45 minutes coach just took us in the locker room and said, 'You guys are a good team you got to play like it, you can't be scared,'" said sophomore Greg Norris.
The Aztecs weren't completely outmatched despite some of the Xolos having international experience, but the crowd was unlike anything "The Show" could ever provide.
"I think we were scared very much so in the first half. Simple balls, simple touches, just going out of bounds underneath our foot, passing to the other team. We really came out and did not handle the atmosphere very well and didn't handle Club Tijuana very well," Kirshner said.
In the second half, the Xolos' Luis Chavez scored a penalty kick in the 65th minute. Norris, a new recruit who spent the past three semesters on the club team before making the varsity team as a walk-on, equalized in the 76th minute.
The game was billed as a friendly, which started beforehand when the two squads hosted a youth soccer clinic. As soon as the action started, the referee had a quick trigger with yellow cards all night, culminating with SDSU's Casey Macias getting a red card in the 84th minute.