Baseball out to muzzle Bulldogs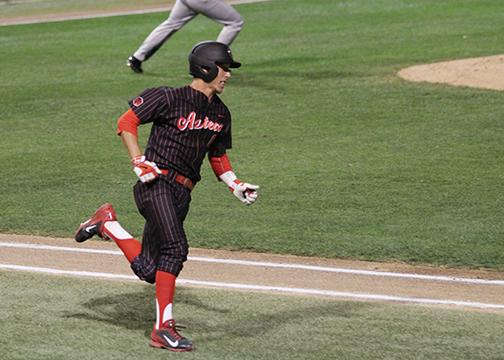 by Ryan Posner, Staff Writer
April 23, 2015
Hang on for a minute...we're trying to find some more stories you might like.
The San Diego State baseball team enters a three-game set at California State University, Fresno this weekend sporting its longest losing streak of the season at four games.
SDSU was swept by University of Nevada, Reno last weekend and then was defeated by California State University, Northridge on Tuesday.
Now the Aztecs match up with the Bulldogs who are currently two spots behind them in the Mountain West standings.
For SDSU head coach Mark Martinez, it's all about remaining calm.
"These are some growing experiences for us, we've made mistakes in critical points in games and they've just kind of snowballed on us," Martinez said. "We've run into a couple good (NCAA) Division I teams of late, it's a long season. "
Something SDSU will need to shore up heading into the weekend, which has been strength for the team most of the season, is its starting pitching.
Junior right-handers Mark Seyler and Bubba Derby have anchored the rotation all season, but both struggled against Nevada.
To couple that, sophomore left-hander Marcus Reyes and sophomore right-hander Cody Thompson both had struggles of their own in the four-game losing streak.
"(Seyler and Derby) are two of the premiere pitchers in our conference, they just have to go back to what's made them successful all year," Martinez said. "I'll take any of our four guys to go out there and win a big game for us."
With the struggles of the starting pitching, the Aztecs have gotten away from the "formula" that Martinez says has led them to success all season.
He relies on his starters to get him five or more innings before tinkering around with his many arms in the bullpen to finish out games.
"Our pitching has been strength for us most of this season, I believe they can go out and get it done," Martinez said.
The pitching staff will need to get it done this weekend, as Fresno State is nipping on the heels of the Aztecs in the MW race.
The Bulldogs sit just 3.5 games back of the Aztecs with less than a month to go in the season.
Martinez does not want to put any extra implications on this series, however.
"The most important series is the next one that you play," Martinez said. "There are a lot of good teams in this conference, we go out to every series and game with the same mentality."
While Martinez says the team goes into every series with the same mentality, he did make some changes to his lineup over the past few weeks to spark his offense.
He moved the team's top run producer, senior outfielder Steve Pallares, and junior shortstop Danny Sheehan down in the order after batting No. 1 and 2 almost all season.
Freshman outfielder Chase Calabuig, who leads the MW in batting average, was then moved up to the top of the order because he led the team in on-base percentage.
Martinez has since abandoned the shakeup, but has elected to keep Calabuig at the top of the order and keep Sheehan towards the middle, while Pallares heads back to the leadoff role.
In the latter half of the season these conference series' can have big implications on standings and where the team ranks in the country.
This is not something that Martinez is worried about just yet.
"It only matters where you're ranked on the last day of the season," Martinez said. "We don't focus on that stuff; we just go out and play our game."